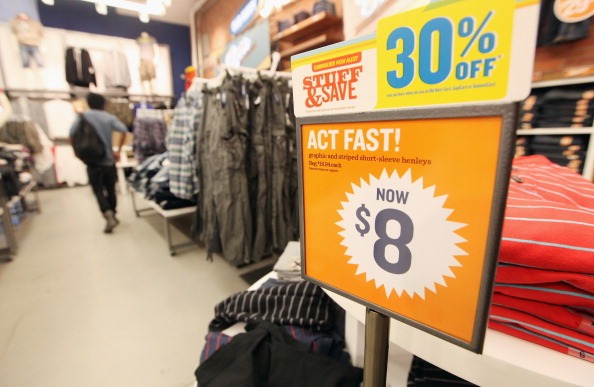 Fall is officially here in most parts of the country, which means only one thing. It's impossible to get dressed in the morning and remain comfortable all day long (you thought we were going to say something about the holidays or pumpkin lattes, didn't you?). I can't speak for the rest of the country being a Florida girl, but I can speak for us Southerners when I say that getting dressed in the morning means donning warm clothes for 60 degree temps, and trying to figure out how to layer so that 4 hours later when it's 85 degrees, the whole family is still comfortable. As adults, we survive. For our kids, however, it's a bit more difficult. What's a parent to do to keep the kids warm in the mornings and evenings and cool all day?
The simple answer is this; sweatshirts. The even simpler, better answer is this: cheap, stylish sweatshirts. Where do you find these? Good question: The answer is Old Navy. That's right. If you're looking for some cheap, stylish and fashionable sweatshirts for your kids  – or the entire family – it's time to hit up Old Navy. Their performance fleece selections are many, and they're affordable.
What to Buy
The best way to start this off is to consider what you're looking for in a sweatshirt. Do you want one that zips up the front or that pulls over? Old Navy has both. Do you want a plain one or one with some fun graphics? Old Navy has both.
When to Buy
Buy now. Even at full price, you're looking at around $15 for an older child's sweatshirt. For smaller kids, you're looking at less than $10 for a sweatshirt. However, if you wait a few weeks until the Christmas sales start to occur, you can pick up performance fleece sweatshirts for around $5 to $8 per person. This sale usually happens after Halloween.
Why Buy
Buy Old Navy because it lasts. It's machine-washable, so it's easy to clean. It's sturdy and thick material, so your kids will be warm. It's small and light, so it's easy for your kids to remove when the weather warms up during the day. Also, they have so many different styles in the sweatshirt department, you're bound to find something the entire family will find stylish and appropriate.
Photo by Mario Tama/Getty Images