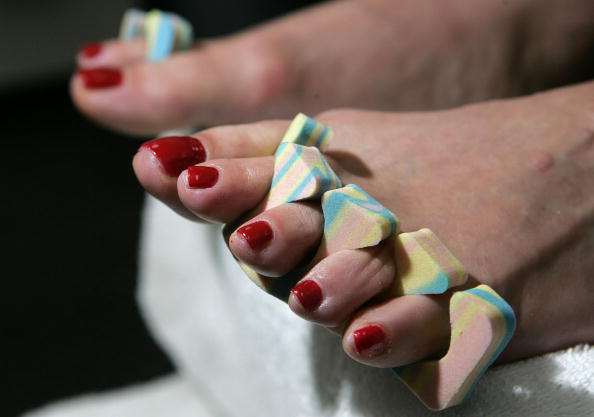 As much as we love our boots and heels, it's summer and summer means one thing: sandal season! But before you go open-toed, you definitely want to have your toes in tip-top shape. Many women prefer to go to the nail salon to get a fancy pedicure, but if you're on a tight schedule or if nail salons aren't your thing, that's perfectly fine. You can get a great pedicure with a D.I.Y. pedi at home! It's probably way more sanitary and a lot cheaper than making the trek to the salon, that's for sure.
Here's how to give yourself a pedicure at home:
– Start off by soaking your feet in warm water with Epsom salt for about 5 minutes. Exfoliate your feet in a circular motion using a pumice stone or a foot scrub – pay close attention to the heels and bottoms of your feet. Rinse your feet off and then pat dry with a towel.
– Apply lotion to your feet to seal in moisture. While you're at it, give yourself a quick foot massage, rubbing the arches of your feet as well as the soles.
– Clip your toenails in a square-oval shape and file the tops of each nail.
– Using cotton, swipe rubbing alcohol over your toenails to remove extra moisture.
– Then, apply a clear base coat to each 10 toes and let dry.
– Starting in the middle of the big toe, apply desired color of polish onto each 10 nails. When you're done, you can do a second coat.
– Finish up with a top coat to prevent chipping. Wait a good 30 minutes to an hour to let your nails dry completely before throwing on your favorite sandals!
Here's a helpful video on how to give yourself a pedicure:
Photo by Justin Sullivan/Getty Images