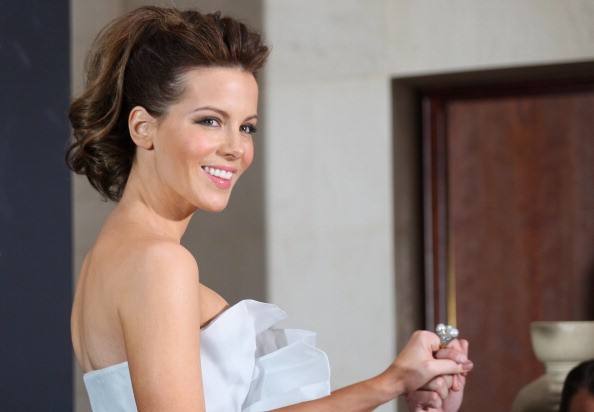 Many women have medium length hair, which is a perfect middle ground between short hair, a haircut that not everyone is comfortable with, or long hair, a hair length that many people find gets tangled easily or is just too long for their taste. Medium length hair is a great one to have as it can do many of the hairstyles that long hair can, but it's not too lengthy that it can get tangled or too brittle from damage. When it comes to styling the hair, medium length can be a little tricky at times, because sometimes it's not long enough to do everything but isn't short enough to be too easy to style. Still, that's no reason to wear your hair the same way day in and day out and/or just use the wash-and-go method. There are plenty of great medium-length hairstyles to choose from! Many of the styles for the length of hair are super-cute and, best of all, super easy to execute. Celebrities including Kate Beckinsale, Emma Stone, and Jennifer Garner have all rocked some great medium length hairstyles at events and on the red carpet – all of which can be done in the comfort of your own home!
Here are five cute hairstyles for medium length hair:
Curly
There's nothing easier than curling your hair to give it a different hairstyle. It can be the difference of going from pin straight hair to a more voluminous look, and even takes the vibe of your hair from casual to elegant in a matter of moments.
French Twist
This sleek, pulled back hairstyle is not only great for a formal event, it can also be appropriate for an every day office look or a work function – it makes the wearer look very put together.
Messy Bun
Whether it's lounging around with your girlfriends or just running errands for the day, the messy bun is a great hairstyle to rock. It's playful and fun, but doesn't require much time to do.
Poofy Ponytail
This retro look is super fun to execute and is perfect for a concert date night or a night out with the girls. It's a fun throwback and it's even practical, as it keeps the hair out of your face.
Half Up, Half Down
This look is probably one that you wore when you were in grammar school and probably stopped. Bring the look back for a nostalgic and timeless look that brings a feminine vibe to your tresses.
(Photo by Adam Berry/Getty Images)