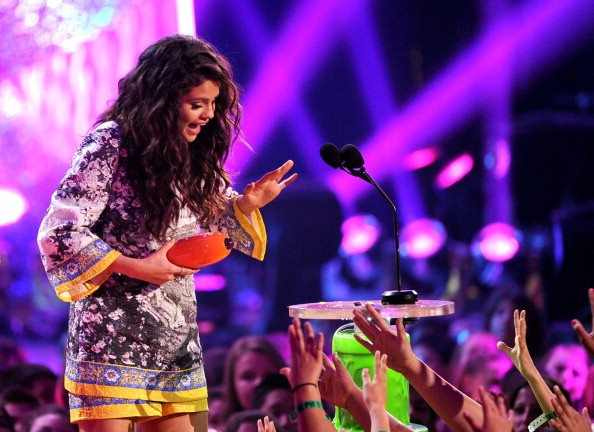 Former Disney star Selena Gomez has some really great things going for her: a career on TV and in movies, a successful musical career, legions of fans and a relationship with fellow pop star Justin Bieber that many could only dream of. One thing we envy most about Selena though is her natural amazing hair. Her dark, wavy and naturally voluminous hair is something many of us wish for on a daily basis – including myself! Selena just seems to never have a bad hair day ever. One of our favorite hair looks is from this year's Kids Choice Awards show, which showed her with nice, big beach waves. Selena's hair stylist for that evening, Marissa Marino, gave Teen Vogue her tips and break down of the look.
Here's how to get Selena Gomez hair:
– With her natural curly textured hair, all she needed to do to start was to let her hair air dry with a bit of detangling product. If your hair isn't naturally curly like Selena's is, spray beach spray all over your head and dry in order to build volume as well as little bit of a wave. Once the hair is dry, pray Unite's Beach Day sprain order to define these curls. Then, you will want to avoid being too sticky or too crunchy.
– Once the hair is dry, take section by section and wrap hair around a medium curling wand.
– Do a deep side part to make it noticed, big and beautifully! Once it is all done, flip the head over, shake it out and telling with hairspray.
(Photo by Kevin Winter/Getty Images)