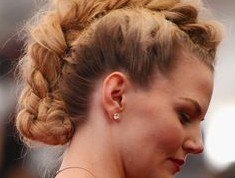 For a different kind of look, many ladies to turn the ever-elegant hairstyle of braids. Braids are classic, fancy and pretty easy to pull off for any kind of occasion. However, braids aren't necessarily the most fun or exciting look, especially compared to that of a Mohawk! Mohawks are often seen as a hairstyle for those feeling rebellious or rocker, but it doesn't have to just apply to just those people. In fact, why not combine the two to make an even more amazing and fun hairstyle?! Long, short, thin, thick, straight, wavy, curly – it doesn't matter, as you can have any sort of hair for this unique hair!
Here are three simple braided Mohawk styles for any type of hair:
Mohawk Pull Through Braid
It's a fun and edgy style of hair that can easily be an editorial style using the pull through braid technique. All you need to do is section your hair off in three sections and work from there. You need a lot of clear elastics and some spray, as well as some patience while braiding a tight bottom braid while incorporating the bottom braid with the top braid.
Braided Mohawk Updo
Long hair with a Mohawk? Yes, it can be done – and it is also a very funky look that can be appropriate for most occasions. You start off making a braid down the middle of your head and later fluff it up in the style of a Mohawk. You can either pull it back into a ponytail and leave it that way, or keep on going with more braids for a more intricate look.
Braided Mohawk for Short Hair
It may seem that a braided Mohawk would be a bit difficult with short hair because of the lack of hair, but it actually makes it a lot simpler and easier. It's an easy way to style your hair for a rockin' night out and/or to try a new 'do!
(Photo Source: Pinterest)