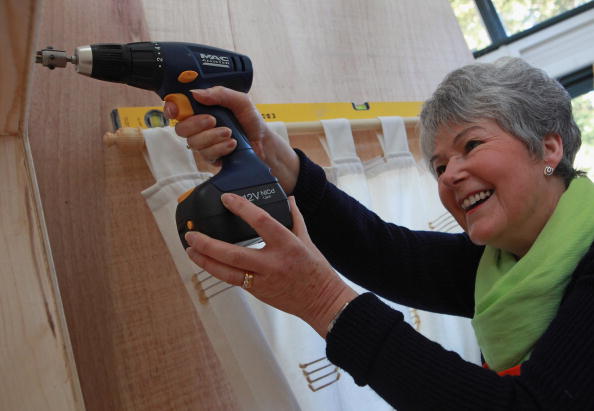 Do-it-yourself projects are all the rage right now. They are some of the most fun, most creative, and most cost-efficient things you can do in and around the house. You can make your own gifts, upgrade your décor and even fix issues you might be having in your house. The best part about all this is that it's usually so affordable. You can do a major do-it-yourself project at home for less than $5 if you really want. These projects are so simple you will wonder why you didn't think of them before. Read on to find out what you can do for less than $5.
(Photo by Matt Cardy/Getty Images)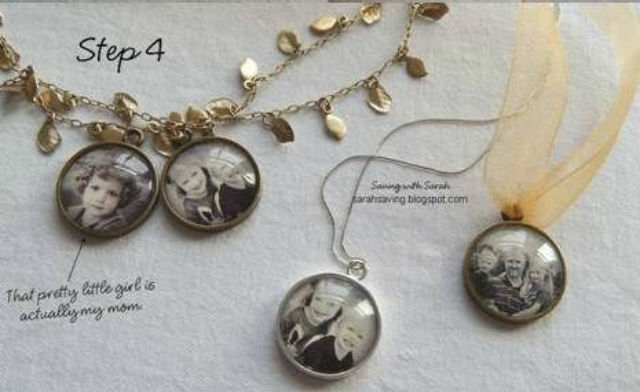 Photo Magnets
All you need for this cheap project is a bag of small, clear, rounded pebbles. You can buy these at your local craft store for just a few dollars for the entire bag. You'll also want some clear super glue. To start, find a picture that's small enough to use. You'll want to make sure the faces in the photo are small enough to fit on the back of the glass pebble. Put a little glue on the back of the pebble and stick it over the faces you want on the magnet. Next, cut the photo out so that it doesn't expand outside the back of the pebble, glue on a small magnet (a dollar at the dollar store) and you have a cute picture magnet.
Photo Source: Pinterest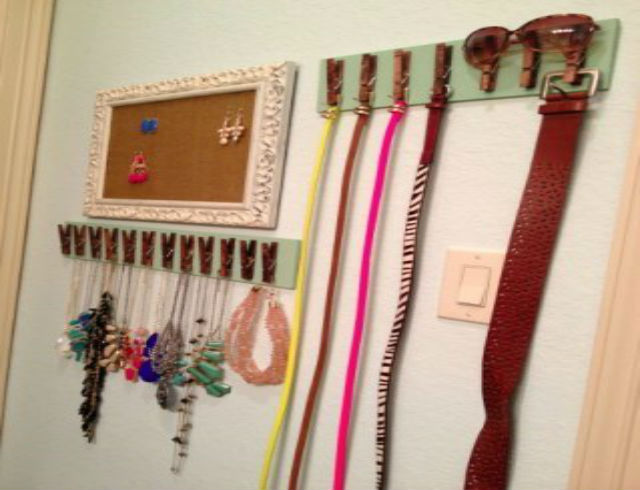 Clothespin Organizer
This idea is cute if you have a lot of belts or scarves you want to hang up but don't have room for. What you'll need is a small piece of wood, only about two or three inches tall and a foot or so long and a bag of clothes pins. You will want to make this organizer by placing a few pieces of heavy-duty double-sided tape to the back. Next, glue a row of clothes pins to the front of the board. You can paint them if you want, but it's not necessary. Once the glue dries, hang your new organizer to a closet wall and use the clothes pins to clip your belts or scarves so that they're always organized.
Photo Source: Pinterest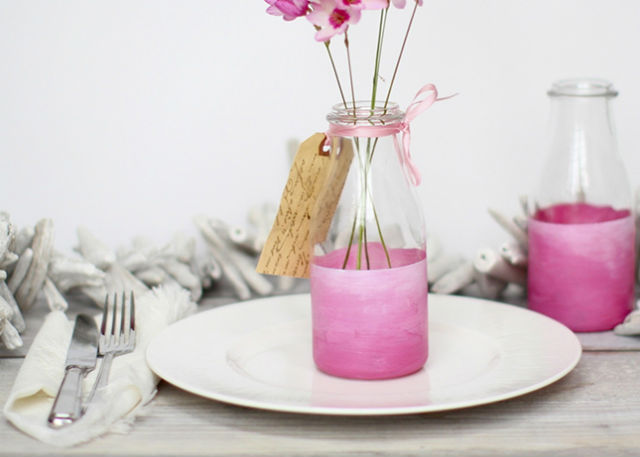 Painted Vases
You can make your own lovely home décor simply by using a few things you have around the house and a few ounces of paint from your local craft store. If you're looking for a unique way to decorate with flowers, these vases are a great idea. All you need is a clear, empty wine bottle or beer bottle, a few ounces of your favorite color paint and a little time. Start by cleaning out your bottle so that it's completely clear and let it dry. Next, pour the container of paint into the bottle and twirl it around for a while until the entire inside is filled with paint. Pour out the excess and let it dry.
Photo Source: DIYNetwork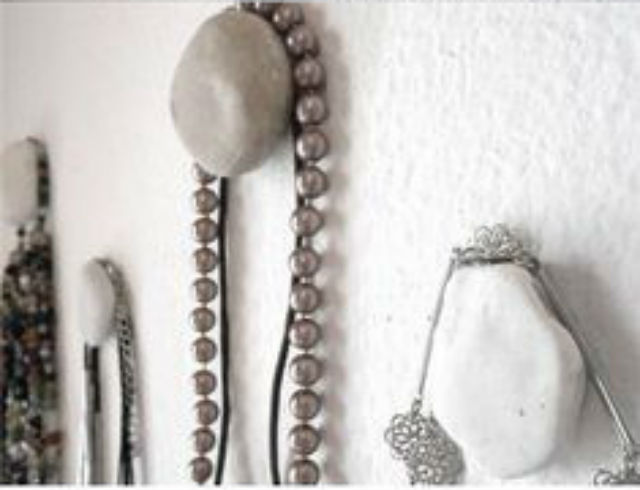 Rock Jewelry Display
If you have a lot of fun costume jewelry, it can be intimidating trying to find a way to display it all. Jewelry boxes are fine, in general, but they're not that easy to use when you think about how difficult it is to store long necklaces without them tangling. This cute, simple, and inexpensive project will take care of that for you. You'll need some decorative rocks (you can buy a bag at the craft store for under $3) and a role of double sided tape that's designed for photo frames and other heavy items. Stick pieces of table to the back of your decorative rocks, hang them on your walls, and place your necklaces around them.
Photo Source: Pinterest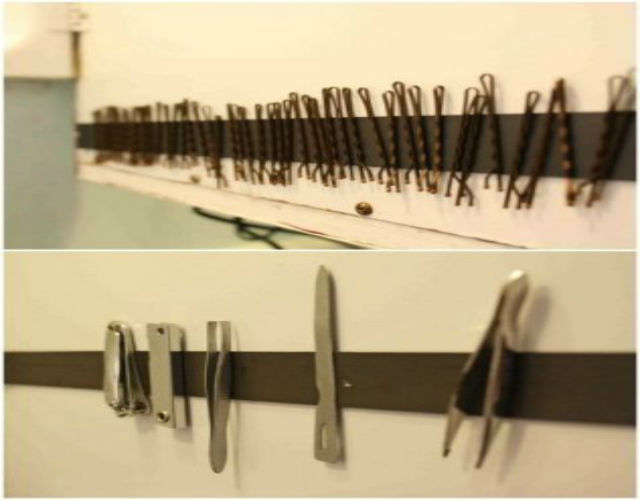 Bathroom Storage
Women understand the stress that comes along with finding a place for all her small pieces and parts in the bathroom – especially tweezers and bobby pins. There is no simpler way to store these things in the bathroom than with this simple DIY project. You'll need nothing more than some double sided tape and a long piece of magnet. Tape the magnet to the inside of your medicine cabinet door. Next, just stick your bobby pins, finger nail clippers, and tweezers to the magnet. They'll stay put and they'll be right there for you when you need them.
Photo Source: Pinterest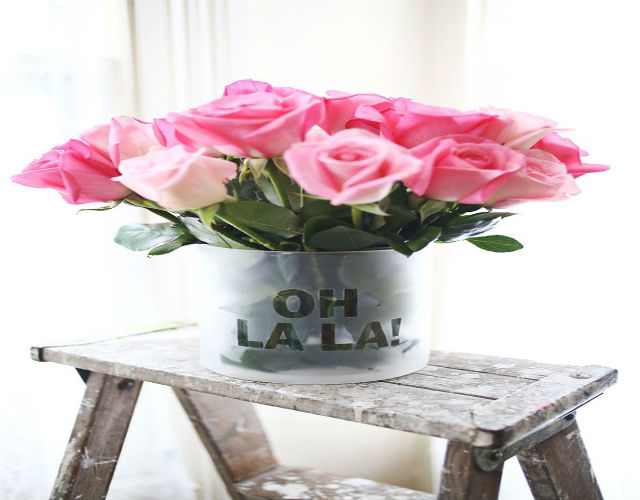 Expression Vases
Another cute idea for a vase is to put your favorite saying on the exterior. For this project, you'll need very few materials. Take that plain vase you received the last time someone sent you flowers and use that as the basis for your product. From there, you will need only a can of frosted spray paint. Something in the silver family will make this project amazing, and a few stick on letters from the craft store. Stick letters to the vase to spell out your favorite word or phrase, or even your last name, and spray paint the rest of the vase. When it dries, remove the letters for a cute new look.
Photo Source: DIYNetwork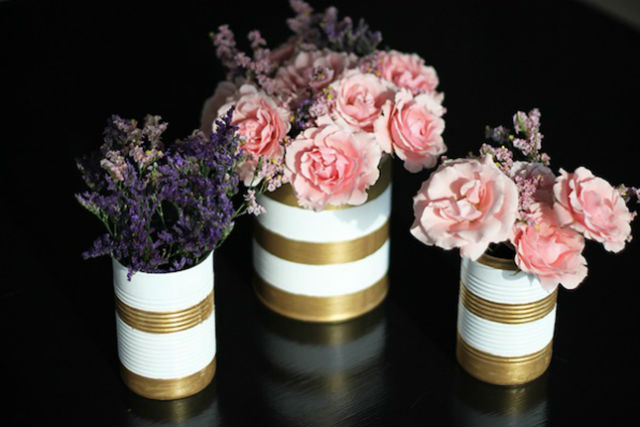 Can Vases
This one is a lot of fun. Just go into your pantry and remove a few cans. You can use something expired or you can use old cans you've saved from previously made dinners and meals. The only other things you'll need are a small paint brush and two of your favorite paint colors. It's simple to do. Just paint each portion of the can an alternating color. For example, the smooth bottom half of the can should be one color and the lined portion of the can above it another. Continue this all the way up the can until it's finished and then let it dry.
Photo Source: DIYNetwork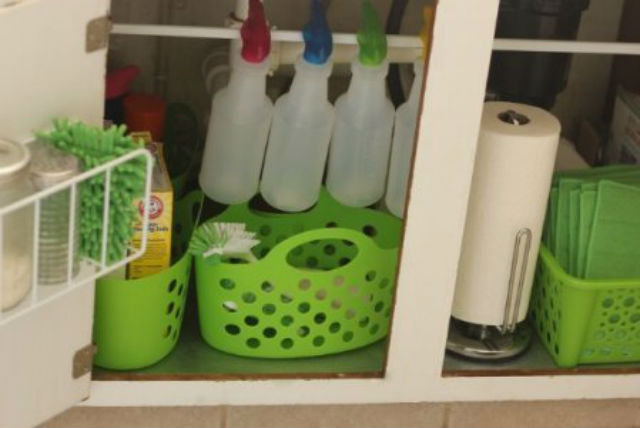 Cleaning Supply Storage
If you're tired of not having any space beneath your sink, you are not alone. The problem is one so many of us have. There are too many cleaners and not enough space. Head to your local dollar store and pick up a curtain rod. All you need to do is secure the rod on the two walls beneath your sink, leaving only three or four inches space above the rod. Next, hang your cleaners on the rod by the handles. This will leave you with plenty of space on the shelves to store other items, and clear up some much needed space.
Photo Source: Pinterest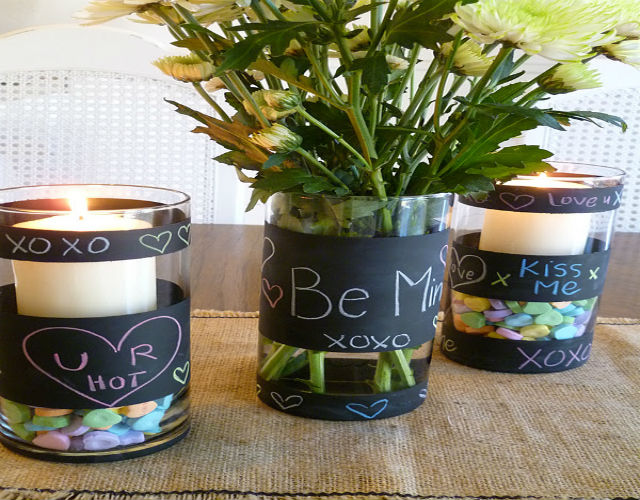 Chalkboard Paint Vases
This is yet another adorable vase idea you can do yourself. This one is cute because it allows you to display your flowers while at the same time writing cute little messages for your loved ones. All you need is a can of chalkboard spray paint from your local craft store and some old vases or bottles. Clean them out and tape them up so that you have a 3 to 4 inch wide section of the vase visible all the way around. Next, spray paint chalkboard paint onto the exposed section of glass. Let it dry and write your first message. Don't forget the flowers!
Photo Source: DIYNetwork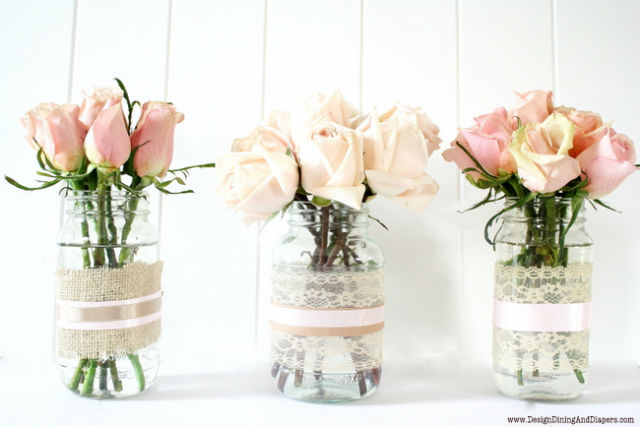 Mason Jar Vases
A few mason jars and some lace and ribbon will only cost you about $5 at your local craft store. You'll also want to break out your old-favorite; the hot glue gun. What you'll need to do is cut a 4 or 5 inch wide section of your favorite lace and hot glue it all the way around your mason jar. Next, cut a piece of ribbon that just fits around the exterior of the mason jar and hot glue it to the center of the ribbon. From that point, you can wait for it to dry and then fill it with flowers, or pens and pencils or whatever you choose for a cute décor.
Photo Source: DIYNetwork