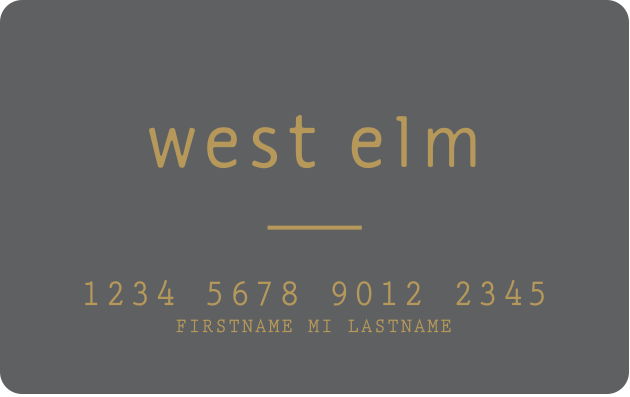 The West Elm credit card is retail store credit card that can only be used at West Elm stores, websites and their catalog. The card cannot be used at Pottery Barn, PB Teen, PB Kids, or Pottery Barn Bed and Bath. While the APR is high, there are benefits if you are a regular shopper at West Elm. If you're looking to cash in on some rewards for a one-time purchase, we recommend passing on this card and opting to put the charge on a 2% cashback card such as the
Fidelity Rewards Signature Visa Card
.
[toc]
West Elm Credit Card Pros
10% reward dollar program
Online account management
Android and iOS app for account management
Sign up bonus and birthday bonus
You might still be approved with a low credit score
West Elm Credit Card Cons
Reward Dollars are issued at a $250 spending threshold
Points accumulated towards Reward Dollars expire within 3 years
High APR (27.99%)
Opting for special financing on large purchases can result in high interest and fees if you are late on a payment
West Elm Credit Card Payments
You can make a West Elm credit card payment by phone, mail, or by logging in at Comenity.com
West Elm Credit Card Customer Service
Customer care is open Monday-Saturday (8am-9pm EST), and closed on Sunday. The West Elm credit card customer service number is 1-800-695-3988.
You can also reach customer service via mail at:
Comenity Bank
PO Box 182273
Columbus, OH 43218-2273
West Elm Mobile Apps
Another great feature of this card is that Comenity offers a mobile app for it, where you can view and pay your bill, and also receive alerts for promotion offers. Here are the links to download the iOS and Android apps…
This slideshow requires JavaScript.
West Elm Credit Card Rewards (10%)
West Elm credit card users receive 10% back in rewards for every $250 they spend. However, sometimes there are promotional rates for new and existing card holders that might push the rewards rate up to 15%. As of today's publishing, there is a special welcome offer of $50 bonus Reward Dollars.
For purchases over $750, card holders are given the option of the 10% reward or special promotional financing. However, be aware that special promotional financing often entails deferring interest. If the promotional balance is not paid in full within the term, or if a payment is late, the interest that has accrued from the date of purchase will be added onto the balance that is owed.
Reward dollars expire 6 months (180 days) after they are issued. After 36 months, any accrued points that did not contribute to the issuance of a Reward dollar will automatically expire.
West Elm Credit Card Birthday Bonus Rewards
Currently this card offers a $25 Reward Dollars bonus on your birthday. However, your account must be in good standing, and you cannot have opened the account in the month of your birthday or the one before it. If that is the case, you will receive your first birthday reward on your next birthday.
The other important stipulation is that you must submit your email address at https://comenity.net/westelm.
West Elm Credit Card Fees
There is no annual fee for the West Elm credit card. However, there is a $38 penalty for late payments and returned payments.
West Elm Credit Card Interest Rate (APR)
As of this publishing, the interest rate on the West Elm credit card is 27.99%. This is an very high rate, and we recommend that you pay your balance in full every month that you use this credit card. Not paying your balance in full will likely negate the benefit of your rewards.
Where Can You Use The West Elm Credit Card?
You can use your card at any West Elm store, catalog, and website. You cannot use your West Elm credit card at Pottery Barn, PB Teen, PB Kids, or Pottery Barn Bed and Bath.
West Elm Credit Card Application
The West Elm credit card is issued by Comenity Bank. You can apply for the card here and must be at least 18 years of age to be approved for a card.
Similar Credit Cards