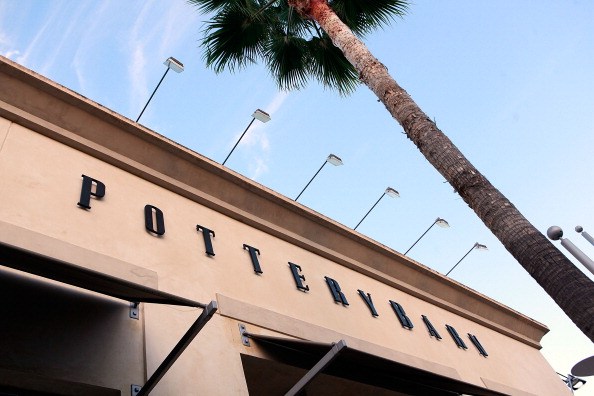 In a perfect world, every nursery and child's playroom would look just as stylish, sweet and elegant in our homes as they do in the Pottery Barn kids catalog. Additionally, the rest of our homes would look just as stylish and sophisticated, and our kids would be as put-together and well-behaved as they appear in the catalogs. However, reality is much harsher, and our kids are often more messy than clean, they're more rambunctious than proper and they're certainly not playing in playrooms with $50,000 worth of toys (well, they might be if we all added up the abundance of stuff we buy them). But it's not picture perfect. Our houses aren't solid white with off-white décor (unless you love peanut butter and jelly fingerprints) and our wallets aren't deep enough to spend tens of thousands of dollars on storage for one playroom. But that certainly does not mean we can't all shop at Pottery Barn and Pottery Barn Kids. We can; we just have to know how to save when we're shopping there since we eventually have to pay for things like college and retirement and, gulp, weddings for our kids.
Buy it Off the Floor
Love that striped chair you've been eyeing in Pottery Barn but you just can't find a coupon for that one online? Yeah, it's a problem most people have. If you love it that much, go find one in the store and ask if you can buy that one. This is a retailer that's happy to sell floor models for roughly 50% off the asking price since it's been used and abused.
Shop Around
Okay, so the point here is to actually shop at Pottery Barn, but sometimes you just can't. Take me for example; I recently gave birth to twins (and we have two older girls). Naturally, I wanted to completely redo the nursery as I'd done with our first and second children, and that included wanting a new swivel rocker recliner I found at PB Kids for more than $1200. My husband, smart man, suggested in a very "I don't support this," kind of manner that considering our two older kids both had rockers that were never used thanks to the fact that they never woke up at night and because neither of us like to be closed off from the house when feeding the kids, that I not spend that kind of money on a THIRD chair. So, I did what any good wife does, I found it for far less at Target (looks exactly like it, has the same features and it's even made with the same material) for $150 and had it shipped to the store free of charge. Bam; we both win.
Use Pottery Barn Coupons
If you sign up for the Pottery Barn email membership, you will receive occasional coupons in the mail. You can occasionally find one online as well that might save you significantly when it's time to shop for your new items in store or online.
Photo by Todd Oren/Getty Images for Pottery Barn