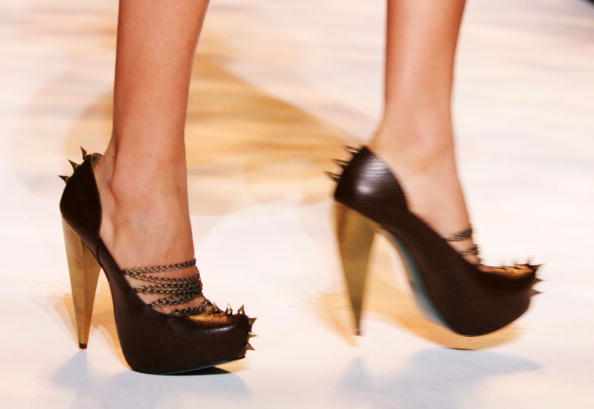 The fashion industry has changed dramatically over the years. There was once a time when only the wealthiest, most fashionable women in the world could afford haute couture and the most exclusive brands in the world such as Chanel, Louis Vuitton and Tiffany & Co. Today, these designers are being worn more and more by women who aren't wealthy or famous, but by women who want to portray a certain look. You can now rent designer handbags and dresses, purchase shoes at outlets and find things that were once so exclusive they were status symbols just about anywhere.
Fashion has changed, but it's not always a bad thing. For the women and men who love their status symbols, seeing everyone with the same Chanel bag and flats is a bit of an eyebrow-raising moment. For those who would never be able to afford these brands they so love, however, the changes in the fashion industry have made a huge difference. These changes mean that women who could never afford designer labels can now pick them up in the local mall.
High-end designers now offer affordable lines at stores anyone can afford. Some of the most exclusive designers in the world have lines at stores such as Target, H&M and even Payless Shoe Source, which are all stores that offer coupons, discounts and affordable clothing and accessories for any budget. Finding a pair of designer shoes at a store such as Payless, where coupons make them even less expensive, is shocking to some; and a dream come true to others. If you're working on a budget and want to afford designer labels, some of these famous names might be well within your budget.
Christian Siriano for Payless
Christian Siriano is one of the most famous designers of this generation. He's the youngest person ever to win the reality series Project Runway, which is hosted and created by the famous supermodel Heidi Klum. The show is designed to highlight and showcase up and coming designers and give them an entrance and a start in the fashion industry. Each of the designers is a high-end designer creating lines of couture clothing and dressing stars and models. The Christian Siriano label is a big one, earning millions of dollars in revenue each year being sold at upscale department stores such as Saks Fifth Avenue and Neiman Marcus. He even has a flagship boutique in New York City. He inked a deal in 2008 to create a line of low-cost shoes and accessories for Payless, which can be made even less expensive with the help of coupons that are offered by the store. He now produces four lines a year for Payless, one of the first places you can shop with coupons and get big savings on designer brands.
Alexander McQueen for Target
McQ is the line that was designed for Target shoppers by one of the most famed designer sin the world. He's a serious designer with a serious following. Most of his collection is available at only the most high-end department stores and boutiques in the world, and it's not uncommon to see his label on the dresses worn by celebrities at their weddings, on the red carpet at award shows and on celebrities just enjoying a night out. His typical line includes apparel and accessories for both men and women, and most price tags are considered low when they dip just below $1000. It's not uncommon to see dresses that have a five-figure price tag in his collection. To have him designing an affordable line for Target means women can choose his British rocker-style ensembles for prices that start around $20.
Vera Wang for Kohls
Simply Vera is the line this famed dress designer created for discount department store Kohls. Included in the line are many pieces of clothing, handbags, shoes and accessories. This is a big departure for the designer, who is famed for making some of the most beautiful wedding gowns in the world. Her dresses have donned the likes of Jessica Simpson, Elin Nordegren when she married Tiger Woods, Victoria's Secret supermodel Lily Aldridge, Khloe Kardashian, Ivanka Trump and even Chelsea Clinton. Now you can be just like one of them, except in every day clothing instead of designer wedding gowns, by shopping at Kohls and picking up pieces from the Simply Vera line.
Kohls offers many coupons, especially their cash back coupons where you get a certain amount of Kohls cash for every purchase you make to use at a later date, which means many women walk out of this particular store with Vera Wang pieces that have been marked down so much and purchased with coupons and Kohls cash. This typically means they paid next to nothing to wear the clothing that so many women in the past only dreamed of wearing at some point in their lives.
Nicole Miller for JC Penney
Her designs are found in her boutique stores across the country as well as high-end department stores such as Bloomingdales, Nordstrom, Saks and Neiman Marcus, and now Nicole Miller has a line with JC Penney in which you can wear one of her designer brand name dresses for less than $50. While her pieces are along the same level as someone such as Coco Chanel, the average dress in her collection costs anywhere from $150 to $300 on average, many costing far more than that. She's dressed some of the biggest stars in Hollywood, and now she's dressing every woman that walks through the doors of her local mall and into JC Penney.
The line features casual and work wear that includes dresses, pants, and everything in between. Many woman choose to wear this line for reasons such as work and play, and they are happy to have the line in their price range and so easily accessible. Since JC Penney often offers discounts and savings on purchases in store, it's possible for women who want to wear this designer brand to pay even less for such a high-end label.
Photo by Matthew Peyton/Getty Images for Payless ShoeSource