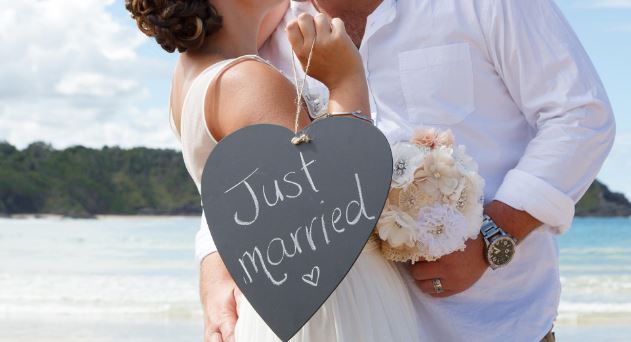 My husband and I exchanged our vows more than 11 years ago. It was 2005. We were 21 and 22 at the time. We'd been dating since we were 18, and we'd been engaged for two years at that point. We were both students, full-time employees with careers we enjoyed and we were building our house at the same time we planned our wedding. The idea of eloping was not one we ever considered. We wanted to party with our friends and family. We wanted to dress up, take photos with the people we love the most and we wanted to do it all up. We were young. We had the best time; and we wouldn't change a thing about our wedding.
Fast forward more than 11 years and I can see the appeal of eloping. For one, it seems so silly at this point to spend tens of thousands of dollars on a party when we could save it, spend it on a down payment or put it towards our other goals. We could use that money for so many other things, and it's kind of an appealing idea. Mostly, though, the idea of eloping now seems so romantic and amazing. Maybe because we are the parents of four kids ages 8 and under. Maybe it's because we have so much going on in our lives that the concept of stealing that kind of time from reality and spending it alone, exchanging our vows with just one another and celebrating the most important day of our lives together without anyone else seems so desirable.
Whatever it is, the idea of eloping seems so romantic and so smart and so beautiful. I'd do it in a heartbeat these days. In fact, we've been discussing renewing our vows for some time now, and I think that I'd rather do it alone, somewhere gorgeous and on a beach or in the mountains where no one else is around and we can celebrate ourselves. It's such a private moment, after all. For many, eloping is romantic, but it's also practical. If you can't decide if it's the right thing for you, let me just tell you that you might want to consider it – and I'll tell you why.
The wedding is fun, but it's a lot of work
You spend months stressed, worried and a little mean. You spend a lot of money, you worry about every single detail, and then you don't get a bite of your own food. You have people who want to interrupt you, people who are posting photos to social media before you can, and people who are just driving you nuts. You are starving by the time you leave for your honeymoon, and you've barely spent a moment with your new husband because everyone wants a piece of you both. It's stressful – no matter how amazing it is.
You can go on one heck of a trip
If you are spending tens of thousands of dollars on a wedding, why not save that money and spend a portion of it on a trip that is so memorable and beautiful you will never forget it? I promise that a major vacation is not something you will ever regret. You can spend a lot more than you might have otherwise, but you also get to save a ton.
The photos
Need I say anything else about the amazing photos you're going to have when you elope? You will get to have the most beautiful background location in every single photo from your wedding. You don't have to worry about finding a place for photos if you get married on the beach on a tropical island. No one will post your photos before you have a chance to post them, and you will never regret the kind of happiness you will see in your faces in those photos.
You can put that money to good use
The biggest reason so many people elope is that they want to put that money to good use elsewhere. Pay off debt, save for a baby, save for a house, pay off your cars, save for retirement; you can do anything you want with that money and never feel bad about it at all. Would you rather have an amazing wedding, or would you rather have a dream house you can call your own every single day from now on?
You can still have a party
I love the idea of eloping and then having a party when you return. It's so much more cost-effective because people have lower expectations. It's not formal, so you don't have to hire anyone else except maybe a DJ or at least someone with a killer surround sound for the iPod. You can order less elaborate food, you don't have to buy gifts (but I bet the people who love you most will still bring you gifts) and you get to really enjoy that time with your friends and family when it arrives. It's worth it.
Photo by Getty Images