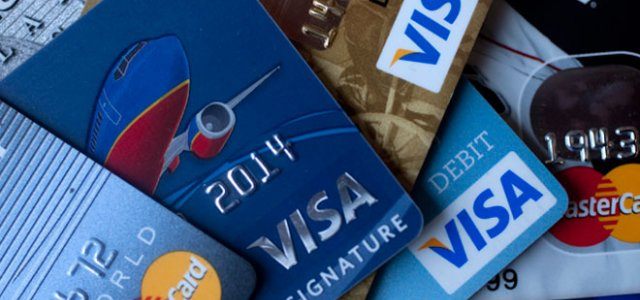 Credit card debt can be a tremendous burden on any individual or family, so many people will tell you to avoid them all together. However, without a credit card, how are you going to build up a credit history so that you purchase a home?
The solution is to have one or two credit cards, use them wisely, and to pay the bills on time every month. If you don't trust yourself with the temptation of putting an unnecessary vacation on your credit card, then a prepaid credit card is the way to go. With a prepaid credit card, you'll get all the benefits of a traditional credit card, only your buying power will be limited to the money you deposit, and not a credit line approved by the bank.
Prepaid cards are also a great way to teach teenagers about personal finance, while also monitoring their purchases.
In this article, we'll take you through 10 prepaid credit cards and the benefits of each. Click "next" below to start the slideshow…
ACE Elite Pink Visa Prepaid Card
The Pink ACE Elite Visa is a prepaid card. Prepaid cards are for convenience over carrying cash for those who don't have or don't want to use a traditional bank account. You basically load the card with money and use it anywhere a Visa debit card is accepted.
Pink ACE Elite Review – Features
Without a doubt the best thing about this card is that it supports the National Breast Cancer Foundation with every use of the card. You can't go wrong there. As with other prepaid cards there is no credit check when applying and no application fee. You can use Direct Deposit for free to deposit your paycheck and even your tax refund, cutting down the time it takes to receive your refund this year. Prepaid cards are also great to give to your kids as spending money rather than cash. It's safer and you have more control over how they spend.
You can apply for the Elite Pink Visa Card here
Bill My Parents Reloadable Prepaid Mastercard
BillMyParents® Reloadable Prepaid Mastercard® is a strong choice for parents who are interested in monitoring their teen's card spending in real-time with email and text alerts. If parents notice any questionable purchases, they can immediately lock the card (and unlock it later) to prevent further purchases. It also comes in a number of fun and stylish designs. In addition it features mobile apps for the iPhone and Android, allowing parents to keep on top of their teen's spending remotely. The app even let's parents manage multiple accounts if they have more than one teen.
Highlights
This prepaid card was specifically created for teens who have no or limited credit history.
Ability for parent's to monitor their teen's spending in real time, and immediately lock card when needed.
With prepaid cards, teens can only spend what you deposit.
No credit check required.
Fund the card by depositing money into the card account with your checking or savings account, a MasterCard, Visa or Discover credit/debit card.
You can setup automatic payment of your teen's allowance to the card.
Fees and APR
Sign up is free.
Monthly Fee: $3.95.
Cash Back Fee: Point of Sale (POS) transaction is free. ATM withdrawal is $1.50.
You can apply at Billmyparents Reloadable Prepaid
American Express Prepaid Card
If you can reload your American Express Prepaid Card using a bank account or other American Express card, then this is definitely a good deal compared to almost every other prepaid card on the market. There are no application fees, no monthly fees, and no annual fees! However if you need to use the GreenDot MoneyPak those fees definitely can be a pain, but at the same time, they are comparable to what you would be paying on other prepaid cards. So overall, this prepaid card from American Express isn't perfect but it appears to be the best one out there.
Be sure to apply for an American Express Prepaid Card here.
iBankUP Prepaid Account
After signing up for the iBankUp program they will send you an UPside Visa prepaid card. It's a convenient way to carry around spending money instead of cash and is accepted anywhere Visa debit cards are accepted. Prepaid cards are good for loading a pre-set spending limit for yourself, your business, your employees, your teenage kids, etc. They work just like credit cards but do not require a credit check when applying. Approval is guaranteed in most cases after proper ID verification.
One of the best features of this iBankUP review is how convenient loading the card is. You have 50,000 retailers available to load cash at. Simply purchase a MoneyPak® at your nearest GreenDot® retailer and just tell the cashier how much money you'd like to load. Then you just go to moneypak.com to add the funds instantly to your prepaid card account. Popular retailers where you can load cash at include Walmart, CVS, Walgreens, Kroger, Rite Aid, KMart, etc. Another great feature in this iBankUP review is the FREE direct deposit. You can receive your paychecks straight to your prepaid account just like a regular checking account. There are also options to receive funds from friends and family as well.
You can apply for you iBankUp Prepaid Account here
KLS Prepaid Visa RushCard
With the KLS Prepaid Visa® RushCard, you are in full control of the spending limit. Get your tax refund faster through FREE direct deposit using the KLS Prepaid Visa® RushCard. It's a prepaid card so the spending limit is what funds you load onto the card for yourself. You won't have to worry about credit debt or APRs. There is no credit check and approval is 100% with the KLS Prepaid Visa® RushCard.
Apply directly through the issuer: KLS Prepaid Visa® RushCard.
PASS from American Express
The American Express Pass Card is a great card to get if you are a parent who's considering getting a prepaid card for your teenage children. This card will give you valuable peace of mind, knowing that your children will only be able to spend what they have on the card. We also like that this prepaid card is from American Express since your teen will be able to enjoy a wide range of benefits such as purchase protection, roadside assistance, entertainment access and special discounts at select stores.
Getting a prepaid American Express Pass Card for your teen is a great idea if you want to give them not only money, but a little bit of financial literacy so that they can learn to check their account and budget their spending. All in all, I highly recommend this card if you are looking for a prepaid card to give to your teens.
You can apply for Pass from American Express here
NetSpend Visa Prepaid Card
If you're in the market for a prepaid Visa and think the NetSpend Prepaid Visa debit card might be for you.
Fees
It is difficult to find a schedule of fees on the NetSpend website because they have the prices scattered around instead of in an easy to find chart. ATM transactions are $2 each, plus the fee issued by that particular bank. You can add money to the card using direct deposit, which appears to be free, or using cash, which has a fee of $5 at some places, and may be free at others. You can also buy reload packs, which are priced at $4.95 each. Money can also be transferred to the card directly from your checking account using an ACH transfer, which may or may not have a fee depending on your bank. You can also transfer money from PayPal, which is free. There are no fees to check the balance on your card, which you can check via a phone call, online, or by sending a text message.
Features
You can send money to relatives or friends, rent a car, pay for gas, and more. NetSpend also offers a savings plan which lets you earn 5% APY on the money you put on your account. As it goes, this card is pretty decent. Whether it is the card for you depends on what your needs are. For example, if you need the ability to transfer money directly from Paypal to a prepaid card, you might be better off with the Rushcard, while if you're looking for a card ASAP, the Wal-Mart prepaid card might meet your needs better.
You can apply for the Netspend Visa Prepaid Card here
PEX Visa Prepaid Card for Business
Small business owners find it convenient to keep all spending confined to one account. Spending by all employees can be managed in one place online. The owner can visit the PEX Visa® Prepaid Card for Business website and create an account to manage all card limits and expenditures. Each issued card within the business can have its own spending limit.
As with most prepaid debit cards, PEX charges a variety of fees for using the PEX Visa® Prepaid Card for Business. The fees a reasonable in comparison to other cards, and with total spending across all of a business's issued cards beyond a monthly threshold, the major fee disappears. These are the most prevalent fees this card carries:
$7.50 month maintenance fee per card (waived any month thee business spends $50,000 collectively)
$49.95 one-time account set up fee
$5 fee to transfer money from your PEX account to your bank account
$5 card replacement fee
All new cardholders will receive the first two months of services free of charge no matter how much is spent. Compared to the fees for some consumer prepaid debit cards, this card is actually quite inexpensive. That doesn't mean however that this card is a good choice, but if your business could benefit from a centralized payment management system, PEX offers a compelling solution.
If excellent credit is something a business hopes to have in the future, the PEX Visa® Prepaid Card for Business is a solid option.
UPside Visa Prepaid Card
UPside created this card with parents and children in mind. As the parent, you can choose how much money to load onto the card and how often to load it. This is an excellent card for college students or kids who earn an allowance. Best of all, you can monitor all of your child's spending habits online.
The Upside Visa card offers three main plans: UPside Clear, UPside Access and UPside Edge. Each plan has different fees and maximum balances. We have listed the main differences below:
UPside Clear
Free membership
No ATM access
$1,000 maximum balance
UPside Access
$35.88 annual fee
$2.99 monthly membership fee
$200 ATM withdrawal max
$2,000 maximum balance
UPside Edge
$29.95 annual fee
$500 ATM withdrawal max
$5,000 maximum balance
Cash-back rewards program
Free direct deposit
All cards have the following charges:
PIN change: $0.99
Card replacement: $8.95
ATM decline fee: $2.00
Card closure fee: $8.95
ATM balance inquiry: $0.99
Balance inquiry via phone call: $0.99
Credit or debit card load: $2.50
Direct deposit: Free
The prepaid debit card is not connected to any of your other accounts, so you can rest assured that the money you load onto the card for your children is the only money that they have access to. Also, remember that this prepaid debit card is not a credit card and does not amass interest. You can apply for your UPside Visa Prepaid card here
AccountNow Gold Visa Prepaid Card
Who the Account Now Prepaid Gold Visa Card Is For
People who want a Visa card without a credit check.
People who want an alternative to a secured credit card.
People who don't like banks.
Credit Rating Required
No credit check required
About the Account Now Prepaid Gold Visa Card
Pros
No credit check required.
Free direct deposit.
$25 bonus on first two direct deposits of $100 or more.
Free online bill pay.
May help build your credit history.
Cons
High fees
Reload Limit
Direct deposit: $6,000 daily limit
Cash loads: $950 daily, $9,500 monthly.
Maximum balance at any time: $10,000.