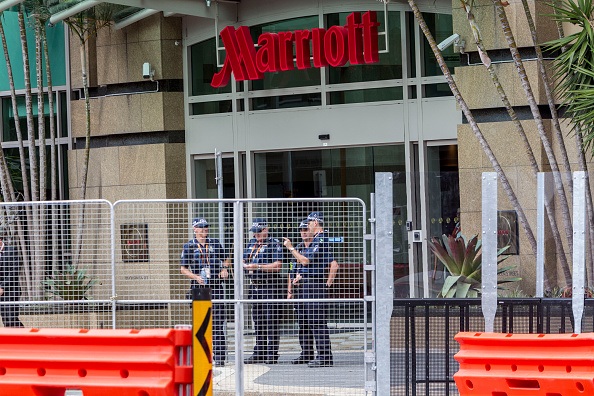 The Marriott Rewards program isn't one that looks overwhelmingly exciting when you look into it. In fact, it's almost so basic you feel the need to move on from the rewards program and make the most with another program. However, it typically is not until you have signed up for a free Marriott Rewards account that you begin to see just how valuable this rewards program actually is. For me, Marriott is not my first choice in hotels. In fact, it's not even my second choice. However, when my husband and I recently took a quick overnight trip to St. Augustine on a date night that was very spur of the moment, I decided to sign up for the Marriott Rewards program since we booked a room at the gorgeous Casa Monica Hotel, and it's actually a Marriott Hotel.
It seems that you cannot judge a book by its cover because many upscale hotels belong to the Marriott family even though we might not realize it at first. For me, this meant learning that many of the locations in which we stay fairly regularly are actually part of the program, and it's taught me to really appreciate the value of our Marriott Rewards points and how they work for us in reality. For example, we stay regularly at the Gaylord Palms in Orlando when we take our kids down for Disney weekends. Being Floridians, we don't like to take them to the parks in the middle of the day when it's hot and miserable, but we do enjoy an evening at the Magic Kingdom. We live an hour or so away, so we frequently take them down for a weekend and stay the night so we don't have to drive home. Now we earn points with Marriott Rewards every single time we stay at the Gaylord, which has a great pool, big rooms and an amazing staff.
My point is that the Marriott Rewards do not look all that interesting at first. However, take a few moments to really get to know this travel rewards program and you might be surprised just how valuable it really is to your life. There are more benefits than you might imagine, the program is much simpler than it seems and you're going to get far more out of it than you might imagine.
Earning Points with Marriott Rewards
Like most hotel reward programs, you earn points with Marriott Rewards by staying the night at Marriott hotels. You book the hotel, you get points. You eat at the hotel, use the spa at the hotel, book a game of golf, order room service and spend money anywhere in the hotel, and you earn points for every dollar you spend. With Marriott Rewards, all members earn 10 points for every dollar you spend at Marriott properties, which include the following brands:
Marriott Hotels
JW Marriott
Autograph Hotels and Vacation Clubs
REnaissane Hotels
Ritz-Carlton (rooms only, though, no other purchases)
Gaylord Hotels
Fairfield Inn & Suites
SpringHill Inn & Suites
Courtyard by Marriott
The Ritz-Carlton, as noted above, is not actually a Marriott Rewards program hotel, but you can still earn Marriott Rewards points on the price you pay for your room when you provide your Marriott Rewards number at check-in, so it's worth mentioning. Additionally, Marriott Rewards members are not limited to earning only points. This is a reward program that allows you to earn miles instead. Marriott Rewards partners with 40 different airlines to help you earn miles instead of points if you like to earn miles for free flights while staying in hotels. The Marriott Rewards airline partners include the following well-known airlines:
Aeromexico
Air Canada
Air China
Air France
Alaska Airlines
American Airline
Asia Airlines
Asiana Airlines
British Airlines
Copa Airlines
Delta Airlines
Emirates Airlines
Etihad
Frontier Airlines
Hawaiian Airlines
Iberia
Japan Airlines
JetBlue Airlines
LAN
Lufthansa
Qantas
Qatar
Singapore Airlines
Southwest Airlines
Turkish Airlines
Virgin America
Virgin Atlantic
If you do have a Marriott Rewards membership, considering hosting your next event at a Marriott hotel. You will earn big time doing this; 3 points for every dollar you spent – the maximum is 50,000 points per event) when you host your next wedding, charity event, luncheon, family reunion, shower or whatever at a Marriott property. You can even turn these points into airline miles by earning as many as 15,000 miles per event when you book an event at a Marriott hotel. That's not a bad way to earn some free points to use toward a honeymoon if you are booking your wedding here.
Furthermore, if you are holding a wedding or other big event here, you will be pleased to know that a group booking of more than 10 rooms is going to earn you a staggering 10 elite nights when you book (we will discuss elite nights and membership status a bit later on in the article).
You can also earn Marriott Rewards points when you use your Marriott Rewards number to do other things, too.
Travel Partner Earnings (excluding airlines) – All Marriott Rewards members are eligible to earn 500 points with any Hertz car rental, 6 points on any purchase at CruisesOnly.com, convert your points earned at the Cosmopolitan Hotel in Las Vegas into Marriott Rewards points and earn as many as 10 points a minute when you use the Travelling Connect international service
Friendly Referrals – Marriott Rewards wants you to tell your friends all about them. For doing so, they will give you points. If you refer 5 friends per year to sign up for the Marriott Rewards program, the hotel will offer you 2,000 points for up to 5 paid stays your friends take throughout the year for a grand total of as many as 50,000 points
Buy Points – One of the benefits offered by Marriott Rewards is that you have the option to buy points from the hotel if you are just shy of needing a few more for a free night. You can purchase 1,000 points for $12.50, which sometimes makes it nice. Let's say you have enough points to book 2 nights at a category 6 hotel (60,000 points for two nights at 30,000 points per night) but you could book a third night free of charge if only you had 4,000 more points. If the hotel you're booking is $250 per night, you could buy 4,000 points for $50 and book that night free (saving you $200). This is a hugely beneficial reward to have access to as a Marriott Rewards member
Marriott Rewards Premier Credit Card
Another way to earn more Marriott Rewards points is by applying for ad using the Marriott Rewards Premier credit card when booking your rooms at any Marriott hotel location. This is a card with a number of benefits that are exceedingly difficult to deny, and it gives all reward points members a chance to earn more points for every dollar spent at Marriott locations.
Earn 5 points for every dollar you spend at Marriott Hotels
Earn 2 points for every dollar spent on airline tickets or in flight
Earn 2 points for every car rental and restaurant purchase
Earn 1 point for every dollar spent anywhere else
No foreign transaction fees
Annual fee of $85 is waived the first year of card membership
Earn 50,000 bonus points when you spent $2,000 in three months
Using the Marriott Rewards Premier credit card to book your rooms at Marriott hotels means that instead of earning 10 points for every dollar you spend on a room and at a Marriott hotel, you'll earn 15 points for every dollar spent. Let's take a look at an example. We recently took our 4 kids to the Gaylord Palms for two nights to enjoy a weekend by the pool and at Disney. Between paying for our room, upgrading to a suite so we had more room for the kids (and a closed off bedroom in which we could put the twins down to bed while we stayed up later with the big girls) and eating and drinking during our stay, our total bill was $1,500 for two nights. We earned 15,000 Marriott Rewards points on our stay.
If we had the Marriott Rewards Premier credit card, we would have earned 15 points on every dollar and we would have walked away earning 22,500 points. Since it only takes 7,500 points to earn one free night at a category one Marriott hotel, we could have earned 3 free nights from that weekend stay. Anyone with the Marriott Rewards Premier credit card and the Marriott Rewards program membership who uses this card to spend only $2500 per month all year (let's assume you pay for all your gas, groceries, utilities, etc. and pay your card off at the end of every month) would earn a minimum of 30,000 if all purchases were worth only one point. If your $30,000 per year spending on this card included $5000 worth of Marriott purchases, $5000 on airlines, $2500 on rental cars and $5000 on restaurant purchases, you'd earn 75,000 points for your Marriott Purchases, 25,000 on our airline, rental car and restaurant purchases and 12,500 points on everything else.
On top of your 50,000 sign-up bonus, that's a grand total of 162,500 points in one year. That's more than 21 free nights in a category 1 hotel or more than 3 nights at the very high-end category 9 hotels. Additionally, Marriott offers all members who redeem four nights with their points a 5th night free. If you booked a medium level hotel in category 5 for 25,000 rewards points per night for four nights (100,000 of your reward points) you'd get a fifth night free.
Ritz-Carlton Rewards Credit Card
Another amazing and useful way to make the most out of your reward points is by simply including your Marriott Rewards membership on your card application. When you book rooms using this high-end credit card, you will earn 5 additional points for every dollar you spend at a Marriott property or Ritz-Carlton property on top of the points you are already earning when you book rooms at these hotels using your Marriott Rewards membership.
This card is a high-end credit card, so it also offers a few other bonuses that make life a little bit more enjoyable. For example, owning this card means you're eligible to receive a $100 hotel credit when you say two or more nights (every single time) and you get a $300 annual travel credit simply for being a cardholder. Additionally, when you sign up for this card, do it when they are offering some serious bonus points. It's not uncommon for new cardholders to earn 140,000 bonus points when signing up, but you have to wait for that offer to come back into effect every few months.
Marriot Rewards Membership Levels
There are three different levels associated with a Marriott Rewards account. Each one offers members something new and exciting, beneficial and useful. These are called elite status tiers, and each one is better than the one before. All Marriott Rewards members are given free Wi-Fi each time they book a room, but there are more benefits to be had by increasing your elite status to a higher tier.
Silver Elite – The lowest level on the Marriott Rewards tier is the Silver Elite level. This is a level that all members are eligible to reach once they are able to stay 10 nights and then the benefits kick in.

20% point bonus on every stay
10% discount on all Friday and Saturday rates at Courtyard and SpringHill Suite properties
10% off all Marriott merchandise in gift shops
Late check out

Gold Elite – The mid-level tier is a little bit more beneficial and a little bit more exciting than the first, with more rewards and more savings for Marriott Rewards members. Members are required to stay 50 nights before earning this Gold Elite status.

25% point bonus
Late checkout on a priority level
Room upgrades
Free phone calls
Hertz #1 Gold Membership
Breakfast lounge access
Cocktail lounge access

Premium Elite – Once you are able to stay 75 nights to earn this highest level of membership with your Marriott Rewards account, you will earn all the perks associated with the first two tiers and then some.

50% point bonus
48-hour guaranteed availability of any room
United MileagePlus Membership
Arrival gift – either bonus points or a food and beverage choice free of charge
One more benefit associated with these elite membership level is that the hotel guarantees them for Marriott Rewards members. If you, for example, cannot get a room even though you are well ahead of the 48 hour window of availability as offered by the premium elite membership, you will be given a choice of a free night in a local hotel and you will earn as many as 140,000 bonus points for your inconvenience – the hotel has a list of all the things you are entitled to if you choose to use them.
Redemption Options for Marriott Reward Members
Unlike many of the most popular believes about the Marriott Rewards membership program, you have so many different ways you can redeem your points. There are some great options, some good options, and some less than amazing options. Which ones you choose depend only on you and your needs, but we do have some good suggestions for you to keep in mind when it comes to redeeming your Marriott Rewards points.
Free Nights – This is the best and most profitable way to redeem your Marriott Rewards points. Each hotel type is categorized and listed as a level 1-9. Depending on the number of reward points you have with your Marriott Rewards account, you can begin to redeem these points at 7,500 points. Click here to find out which hotels are in which category before you book.

Category 1 – 7500 points
Cateogry 2 – 10,000 points
Category 3 – 15,000 points
Category 4 – 20,000 points
Category 5 – 25,000 points
Category 6 – 30,000 points
Category 7 – 35,000 points
Category 8 – 40,000 points
Category 9 – 45,000 points

Pointsavers – Almost just like redeeming your points for free nights, this allows you to save points and pay a little bit of cash to stay at a hotel. It's a significantly discounted rate, but it allows you to save some of your points. The amount varies based on the hotel, and the points vary based on the hotel.
Upgrade your Room – For only 5,000 points per night, you can book a regular hotel room and then upgrade to a suite or other available room that's larger, has a nicer view or whatever it is you are looking for. This is a great way to use your points for a big savings without actually giving up too many points or spending a lot more money for a much nicer room. This is actually one of my favorite ways to redeem my hotel points with the Marriott Rewards point system.
Room Credit – So you know ahead of time, this is not the most profitable way to redeem your rewards points. To be honest, you will not get much for your points here. Let's do the math – you will get $5 off your hotel room bill if you redeem 2,500 points. If you redeem 9,000 points, you will receive a $20 statement credit. If you redeem 7,500 points, you could get a $100+ hotel room free if you go with the free night redemption. So, in short, it does not make much sense to redeem your Marriott Rewards points for credit on your bill when it's virtually a fifth or less of what it's worth when you redeem Marriott Rewards points on a free night or even an upgrade at the hotel.
Using Your Marriott Rewards Points to Travel Frugally
When it comes down to it, we're helping our frugal travelers make the most of their points. The only way to do that is to redeem them for free nights and to apply for the Marriott Rewards credit card at the same time. You're going to earn a bundle of bonus points, add them to any other travel you do in the near future and increase your point redemption so that you get the most for every dollar that you spend. What this is going to do is give you a chance to earn as much as possible with your points so that you are able to make the most of your Marriott Rewards points.
Here's how we are going to explain this to you. We are going to tell you to apply for the Marriott Rewards card and make it your primary card. Use it for absolutely every single purchase you make this year, and pay it off in full each month for several reasons. For one, you're going to get the most out of your card when it's paid off in full each month. You're also going to make the most of your credit score when your card is paid in full each month. Now you are going to plan that dream vacation you've always wanted, save up your points earned and your bonus points, and you are going to combine them when it's time to travel so that you can get free nights in the best hotels in the world so you can travel the way that you've always wanted.
We are not talking about the Marriott at Disney World where you can stay for less than $200 per night. We're talking about Marriott properties in Tahiti or Bora Bora or Hawaii or Paris or Italy or wherever it is you want to travel if you want to make the absolute most of your Marriott Rewards points right now.
Photo by Getty Images