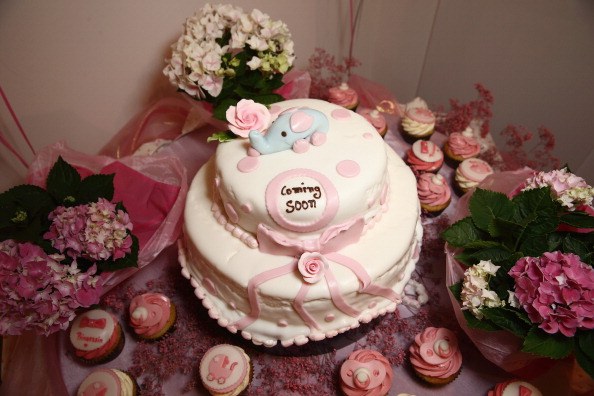 Aside from the moments a woman sees that extra little line on a home pregnancy test, hears her baby's heartbeat for the first time, sees the baby via ultrasound and realizes she's in labor, there are a few other moments during a woman's pregnancy that really stand out as exciting. One of those moments is the baby shower her friends and family throw on her behalf. What makes this moment so exciting and so special is difficult to explain, but here we go.
The moment in which a new mom-to-be gets to sit down and celebrate the impending arrival of her baby with the people she loves the most is an emotional moment. It's a big deal for her, because she gets to do something so special with people she loves so much. The fact that her friends and family took time from their lives to plan a day that's all about her baby, that they took time to shop and plan and think about her; it all makes her feel good – and very emotional. Those pregnancy hormones don't help the matter, either.
Baby showers are beautiful life moments that only happen a very limited number of times for most women, and it's something that should be carefully planned, thought out and executed. But that doesn't mean that you have to spend a fortune to plan a beautiful shower for someone you love. We all get that people have budgets, and that someone else's special moment is not the time to break that budget. You can still host an absolutely beautiful baby shower without spending too much, and we can help you do it with some very simple tips.
Browse Pinterest
It's the single most important piece of advice we can give. You will see inspiration for ideas from other women's boards and baby showers. You'll get to see what they did, learn how they did it and get great ideas for things you can do yourself at home, with very little investment, so that you can recreate something magical on a DIY basis.
Women are creative, but sometimes you need a little inspiration and even a little bit of instruction how to be creative. That's what Pinterest does for women; provides you with the tools you need to create something beautiful and unique, and the instructions on where to buy things, how to make them and what to do to save money. You won't regret using this as a resource.
Make Your Own Favors
One of the biggest wastes of money at any bridal or baby shower is favors. For one, most people don't care much to have a bottle of generic bubbles give to them as a thank you for attending the shower. However, guests do love something that's handmade and created with something wonderful in mind. DIY baby shower favors are simple, easy and will be so appreciated by not only the guest of honor, but her guests as well.
Try something such as a handmade container of body scrub – or something else (again, try Pinterest to find DIY favor ideas). We love the idea of getting some pretty mason jars, making DIY body scrub using sea salt, sugar, olive oil and essential oils for scent, printing adorable labels and leaving them at each place setting for your guests. It's inexpensive, simple and oh-so creative.
Save on a Venue
Here's something that you should consider at a shower; you don't have to use an expensive venue. Does the mom-to-be have a large house? If so, you might consider getting her out of the house for the day (have daddy-to-be take her to the spa for a pedicure, prenatal massage and facial) so that you can go in and set up for the party. The deal here, however, is that you have to do all the prep – cleaning and preparing for the party – and all the clean up. It's not fair to leave mom with that work – she's going to be exhausted and tired.
However, it's helpful because it's free and because your new mama-to-be doesn't have to carry loads of new baby gear to and from her car multiple times when she has to transport everything home. Just be sure to clean up after yourselves and not leave anything for the expectant mother to do on her own. She might just love the fact that you hosted the party in her home and someone else took all the gifts to the nursery for her – that's a real time saver and energy saver.
Go With Brunch
Party food is notoriously expensive, but if you choose to have a brunch shower or one that is only for appetizers, you can save a bundle. Brunch is good because you can go with donuts, bacon, sausage and breakfast casseroles that are made ahead of time, baked in one dish and served. You can serve fresh fruit, coffee, juice, breakfast breads; all things that don't cost too much and offer you the ability to have plenty of food at a low cost.
And everyone loves brunch. It's easy and it's elegant, and you can find so many amazing ideas online that will help you set things up and make them look even more creative and lovely in person that you get an overall elegant and sophisticated effect when you see the finished product.
Think DIY
DIY is the best when it comes to hosting a shower on a budget. We love the idea of making place cards out of small frames turned into chalkboards with chalkboard paint; the same with food descriptions. We love using simple table linens such as burlap and color, simple floral arrangements that might include small vases with one or two lovely long-stemmed flowers, baby photos of the new parents-to-be as décor on the tables and on the buffet; we love it all. You can also get a temporary stage if you're hosting a big party.
It's not impossible to throw a beautiful shower that looks as if it cost a lot of money and took a lot of time when, in fact, it required neither. You will really cause tears of happiness from the parents-to-be when you create an event like this on their behalf.
Photo by Andreas Rentz/Getty Images