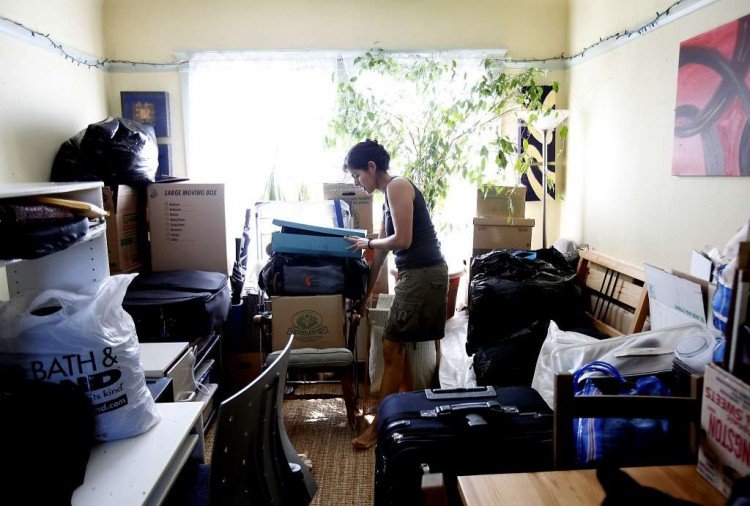 Most people move to the big city looking for an opportunity to excel in their career. Living in a big city means more jobs. The only problem with moving to a big city is that the cost of living is often high. If you are moving to the big city for school or work, but you are living on a small, limited budget, there are a few tips that you should follow so that you don't go broke soon after getting there.   Moving to an expensive city would mean that you need to make huge lifestyle changes if you are going to make it. If you know how to save money and you can stick to a budget, you should be fine.
1. Forget Owning a Car
If you are planning to move to a major city, such as New York City, you should sell your car before you make the move. Parking in New York City can be very difficult. Unless you find an apartment with a private garage, you would need to pay to keep your car in a lot. This can cost over $500 per month, and there is no guarantee that the lot will be close to your apartment. It is much cheaper and efficient to use the NYC public transportation system. You can get an unlimited MTA pass for $89 per month. This gives you unlimited access to the buses and the subways that run 24 hours a day, 7 days a week. This pass will also allow you to ride on the Staten Island Ferry. Most people spend more than $89 each week on gas for their car, therefore, getting rid of your car will be a huge money saver.
2. Find the Cheapest Neighborhood
Every city has neighborhoods that are more expensive than others. For example, in New York City there are 5 boroughs. Manhattan is in the center of it all and it is the most expensive. If you don't have the money to move to the heart of the city, you should look for less expensive neighborhoods. For example, if you want a one bedroom apartment in Tribeca, you can expect to pay over $4,000 per month. You can look at the less expensive neighborhoods, such as Astoria or Brooklyn Heights, where you can expect to bay between $1,800 and $2,950. Before you move to the city, you should do your research on the least expensive neighborhoods. The best part is that public transportation runs all over the city, so you don't need to worry about getting to class or work. You can catch a bus or a subway from anywhere in the city.
3. Consider Getting a Roommate
If you want to pay as little as possible for rent in the city, you should look for two bedroom apartments or three bedroom apartments and get roommates. If you have a friend looking to share an apartment, that is the best situation. If not, you can advertise on Craigslist or a similar site to find someone who is willing to split the rent with you. Before you choose a roommate, it is a good idea that you do a background check and a credit check on the individual that you are considering sharing an apartment with. You want to live with someone you can trust.
4. Avoid Eating Out
It can be very expensive to eat out in the big city. A fast food restaurant can charge up to $15 for lunch. If you eat lunch out everyday for 5 days, it can end up costing you $75 for the week. It is a good idea to pack a lunch and buy food to prepare dinner. This may not be as fun as eating out, however, it can save you thousands of dollar each year.
5. Find Free Fun
One thing about living in the big city is that there are plenty of things to do that cost no money at all. If you have nothing to do on a Saturday or Sunday and no money to spend, you can spend time at a public park. They are often well maintained and peaceful, and there is often free events in the park to watch, such as sporting events, concerts, and fairs. You can visit the library for free and read the latest publications or rent a new release movie. Most museums in large cities do not charge you to get in, and they exist on donations. Even if you only have $2 to spend, it will get you into the museum and you can have hours of fun. If you look online, you can find plenty of fun things to do in the big city.
6. Find New Ways to Workout
You may be a fitness nut, however, the gym is an additional expense that you may not be able to afford after you move to the city. Luckily, there are other ways that you can workout. Most parks in big cities have walking, biking, and jogging paths. You can also join a team to play in the park or sign up for a running group. There are plenty of ways to get a good workout in without spending any money.
7.  Shop at the Thrift Stores
When it comes to buying clothes, you need to be thrifty if you are going to be living in the big city. Most large cities have many thrift stores that have nice things. Most of these stores won't put clothes on the racks that are stained, torn, or out of style. You can find clothes at these places for a fraction of buying them brand new in a store.
8.  Stick With a Pay-As-You-Go Phone Plan
You may want to have the newest model phone on the market, however, it may not be an option if you are living in an expensive city on a small budget. The bills on pay-as-you-go plans are a fraction of the cost of being on a phone plan. You can get unlimited everything on one of these plans for between $30 and $40 per month. You may have to go with an older phone without a plan until you have more money in your budget to spend.
9. Make a Savings Plan
For the first few months, you may not have any money in your budget as you settle into your new home and your new lifestyle. After a few months, you should have an idea as to how much money you can save. It is a good idea to put money into a savings account as often as possible. Having savings will give you the safety net that you need in case of an emergency. Also, you will have money saved if you become financially ready to move to a nicer neighborhood.
10. Don't Depend on Your Credit Cards
Many people who move to an expensive city on a small budget start to rely on credit cards more than ever to continue living the lifestyle that you did when you were living back home. This is a huge mistake. The more debt you have, the longer it will take you to get ahead. If you want to buy something that you could not afford with your credit card, you should just avoid buying it altogether.