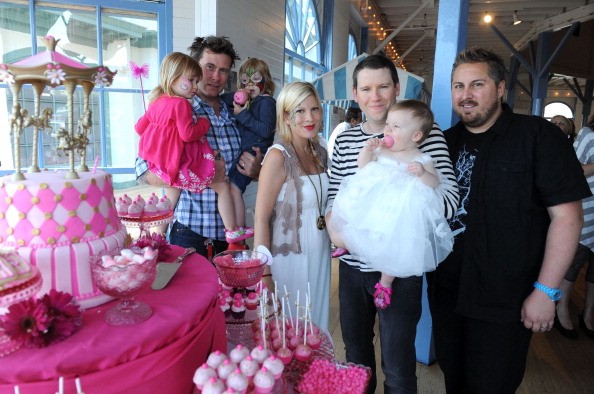 We all already know that children's birthday parties are the devil. But we still have to celebrate our kids, and who are we to tell them that they cannot have a party if that's what they want? Allow me to take a moment right here to breathe a large sigh of relief that our daughter, who turns 7 tomorrow, has asked to just go away to her favorite hotel for the weekend with the two families we are closest to instead of party. It was the most amazing question she's ever asked me. Of course, I said yes, and tomorrow will be off bright and early for a long weekend of fun in the sun with her, her best friend and her cousin (and their parents, who are our best friends). Win-win for all involved, really. Now back to parties; they're expensive and they're a pain, and most people dread them (for good reason). If you're looking for ways to save a few dollars throwing a party for your kid's birthday, let me help you out with a few pretty simple and kind of genius tips.
Host the Party at Home
There is no need to rent an expensive venue if you have the space at home. Even if you do not have the space in your home, your yard might have plenty of space perfect for hosting a birthday party. Just make sure that the weather is good enough for an outdoor party if this is the option you go with. No one wants to have an outdoor party in the middle of January in the middle of a blizzard in Minnesota. Then, rent or buy some bounce house inflatables and let the kids play!
Make it a Pizza Party
Pizza is so much less expensive than catering a party, and you could potentially save a bundle this way. We did this earlier this year, and people loved it. Granted, it was a laziness factor for us, since our middle daughter turned 4 two days after our twins turned 1 and I simply did not have the strength or energy to throw two huge parties back-to-back in less than a week. So, she had a pizza party (her request and I went with it). I was shocked how inexpensive it was, and how much people loved the concept.
Choose an In-Between Time Frame
If you want to avoid the obligation to serve an entire meal, choose a mid-afternoon or mid-morning time frame. You can serve small finger foods such as chips and dip and fruit and not have to worry about main dishes or main courses. It's an inexpensive way to host a party that people will still enjoy – while still full from their pre-party meals.
Make the Cake Yourself
Now, I'm not going to lie; a homemade funfetti cake is the best cake in the entire world, yet I order a professional cake for all parties every year. If you are on a tight budget, however, make the people happy and make a cake on your own. People love that, and it's so good. You can never go wrong with funfetti. Never.
Have Cupcakes
Here is a great alternative to cake since you don't have to cut it, and since you can order cupcakes from the local bakery at your favorite supermarket for just a few cents each. I did a birthday party for my daughter recently who wanted cupcakes very specifically decorated. I ordered 100 of them and it cost me next to nothing. What a great deal. I'll be doing this from now on. It was quick, it was delicious and I didn't have to stand there and cut and serve cake to everyone.
Get Creative with Décor
I don't like traditional party décor for birthdays. I like personalized napkins, water bottles, candy bars and such. And I can buy those things by googling what I want and adding "Etsy" at the end of my search. I can buy personalized labels for a buck, have them emailed to me and wrap them myself. It's so simple, and people think that you spent far more money and time on your party than you really did.
Skip a Theme and go with a Color Scheme
I prefer a good color scheme anyway, because I feel that it allows me to become a little more creative. Instead of going out and spending money on a label that says "Mickey and Minnie," have a red and black and white party and incorporate these characters where and when you can without the expense of having their faces and the Disney logo plastered on every single thing you buy. It's a lot more productive this way.
Forgo Paper Invitations
I love a paper invitation, and it pains me to admit that they are a think of the past. Try a Facebook invitation or an online invitation. It's free. You can decorate it, add photos and people are far more likely to respond to this kind of invitation than they are a paper invitation that requires them to make a phone call or send a text or email. It might make you feel as if you are losing all sense of good etiquette, but you're actually gaining responses, and that makes planning the party that much simpler.
Say No to Favors
Kids do not need a bag of candy and loud noise-making plastic toys to take home with them. They just received hours of fun at your house, probably bouncing in an inflatable, eating cake and ice cream and playing with other kids. That's enough. And believe me when I say that other parents are not a fan of these things, either.
Keep it Small
There is no reason you have to invite every single person that you know to your kid's birthday party. The good news is that as they get older, they can pick and choose who they want. You can make it only their friends and not invite extended family, or make it family only. Just keep it small and simple, and the budget will really stay tight. This way, the costs for food, drinks and event catering services will be more manageable.
Photo by Frazer Harrison/Getty Images