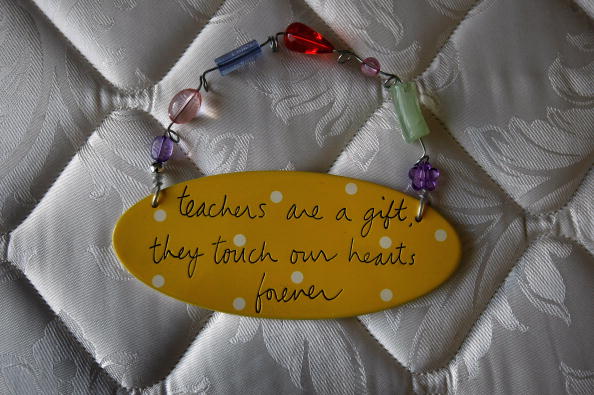 While school may not have started for the fall semester yet, it's never too early for you to think of a gift for your teacher. In fact, summer is the perfect time for schooling and classes, like those exercise, yoga and even crafting classes you've been meaning to take. Whether it's your kid's teacher or your yoga instructor, it's always a nice touch to give a little something to a teacher to show your appreciation. It doesn't have to be their birthday or a major gift-giving holiday for you to give them a gift, either.
Here are five ideas on getting a gift for your teacher:
1. A school supply cake 
Help your teacher save some money by gifting them with school supplies they can use in their classroom. Buy your favorite teacher a bundle of pens, pencils, glue, scissors, Post-Its, cleaning wipes, hand sanitizer and more!
2. Teacher appreciation scrapbook
Nothing is more touching than a scrapbook where you can fill in the best of times with photos, words, stickers, and other fun items. Scrapbooking is a lost art that anyone can do – it's all about what you put into it. Help them save (and savor!) the memories by gifting them a scrapbook of their own that they can put together along the way. Bonus tips: start a few pages for them and getting crafty yourself!
3. A teaching-inspired pillow 
It takes a lot of patience to be a teacher, and sometimes even teachers need pick-me-ups and encouraging words from time to time. Give your teacher a nice reminder of why they love teaching so much, as well as something to put their head on during the difficult days.
4. Wellness basket
The winter months can be harsh for everyone, but teachers have to deal with a number of people, students and colleagues alike, making them susceptible to even the smallest tickles in the throat. A wellness basket stocked with a variety of delicious teas and a jar of honey could be the perfect cure – and the perfect gift!
5. Gift card
You can make this into a group effort if you desired, pooling money to give a your teacher a generous gift card to a common and varied store. Target and Amazon are great places that many people spend their money on – but then again, teachers could always use a sweet treat or a boost of caffeine (Starbucks, anyone?) also!
Lastly, a simple thank you card with a heartfelt message goes a long way! Be sure to include one with your gift for a nice finishing touch.
Photo by John Moore/Getty Images