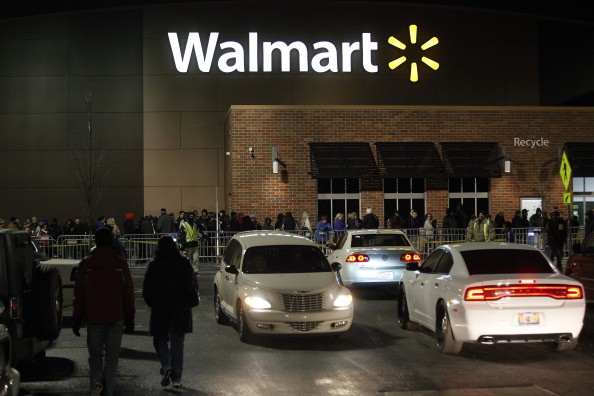 Sure, many retailers may have some great Black Friday sales when the big day comes, but not quite like Walmart. There's a reason why there are so many who flock to the store, often camping out before Thanksgiving Day even If there's one store that you will really have to plot to survive (literally) and really be careful to play your cards right, it's Walmart. People have been trampled on, hurt and even killed because of how excited people can get over the allure of great deals and the best sales ever anywhere. Walmart already has incredibly low prices for practically everything in their store, so Black Friday is essentially getting things nearly handed to you at such a low cost! That just means that everyone else is going to be pining for the items and there will be lots of competition on the biggest shopping day of the year.
Here are five tips for surviving your 2014 Walmart Black Friday:
1. Get there early. In recent years, Black Friday has unofficially started on Thanksgiving, with many people opting to start lining up before Turkey Day and some even eat their Thanksgiving meals in line. While you don't necessarily need to give up your holiday, it is good to go as early as you can to get the best deals.
2. Plan ahead on what you want to get. Most of the greatest deals at Walmart are first come, first serve and will probably run out quickly. Have several plans on what you want to get so you can make a quick bolt to where you need to go without hesitating.
3. Be aware of where you are standing and your whereabouts. It's no secret that Walmart  on Black Friday can be brutal – after all, people have been known to get seriously hurt and even killed there. That's not to necessarily deter you, but it's always important to know where you are, see where you are going and to safely get there.
4. Bring snacks and water. It sounds like a lame tip, but trust me – no one ever made good decisions when they were hungry… especially when it comes to shopping. After all, there's a reason why  there are food courts in malls!
5. Keep calm and be nice to others. There will be a ton of people around you, many with the same mission and same product sale on their minds. There are a lot of strong-willed people who will be there with you – stick to your gut and be as nice as you possibly can. In other words: avoid getting into arguments and fights.
 (Photo by Joshua Lott/Getty Images)