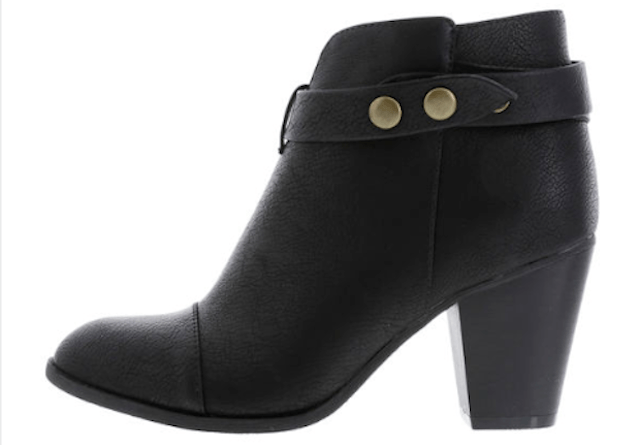 If you want great quality shoes at the most inexpensive prices possible, your best bet is to go to Payless Shoes. The footwear retailer has quite possibly the biggest mix of both trendy and classic shoes around with unbeatable prices. Designers such as Christian Siriano have lines with Payless, proving that the shoe giant is not only very affordable, it also sells quality footwear. Boots can be a specifically rather expensive thing to purchase, but very necessary in colder places. Payless has many of their boots in stock – and what a mighty fine stock it is! From delicate to rugged to fashionable, that's what most of their boots look like.
Here are our top ten picks for affordable and stylish Payless boots:
Raven Tall Boot by Lower East Side – $29.99
With its slouched details, this tall boot is perfect for every day wear. The round toe, buckle boot comes in a variety of colors, including black, brown, black suede, grey and wine suede.
Tanner Lace-Up Boot by Brash – $34.99
Give your outfit a rugged touch with this tough boot. The lace up shorter boot comes in a variety of colors, including black, cognac, dark grey, and tan. Pair with skinny jeans and your favorite flannel for an ultra-casual look.
Scarlett Block Heel Boot by American Eagle – $34.99
This simple yet trendy chunky-heeled boot is the perfect accessory to any outfit. Pair this bootie with dark wash jeans and dainty jewelry for a well-balanced outfit.
Malia Block Heel Boot by Christian Siriano for Payless – $34.99
Another beautiful chunky-heeled boot, this designer boot is a chic throwback to the late 90s. Pair with your favorite dress to give it an edge or even just a pair of your favorite jeans for a more casual touch.
Spencer Moto by Brash – $34.99
The biker-inspired boot, which comes in black and cognac, definitely will give you some street – and fashion – cred. Rock your outfit with this boot, a pair of bootcut jeans and a leather (or pleather) jacket for a great finishing touch.
Reina Riding Boot by Dexflex Comfort – $49.99
This tall riding boot is perfect when paired with skinny jeans as well as one of the most comfortable boots ever, boasting a two-layer insole – it's comfy and stylish!
Rory Faux Fur-Lined Boot by Lower East Side – $44.99 – $69.99
Whether it is dressed up in a cute dress or dressed down in a t-shirt and jeans, this boot is perfect for practically any occasion. It's even warm enough to keep out the cold – up to 14 degrees worth of cold!
Marilee Mid-Heel Boot by Lower East Side – $54.99
This versatile boot is great for work or a night on the town. The scrunch design of the boot gives a bit more detail and the black and tan color choices both work for any color scheme.
Thea Lace-Up Lug Heel Boot by Brash – $69.99
Reminiscent of the beloved early 90s Doc Martens, this boot gives a kick of nostalgia (pun intended). It's a rugged type of shoe that can easily be made girly with the touch of more feminine accessories and jewelry.
Penelope Over-the-Knee Boot by Christian Siriano for Payless – $79.99
This chic riding boot has big style written all over it. The over-the-knee aspect gives off a super-trendy vibe from the designer and the price tag for this kind of boot is unbeatable!
(Photo Source: Payless.com)