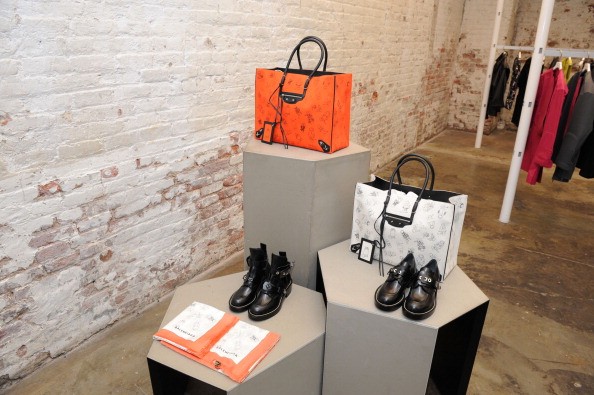 Mention the brand Balenciaga and you can practically see women everywhere drooling at the thought of the designer's gorgeous, coveted purses. While Balenciaga is known mostly for their bag collection and clothing, they also have sneakers in their shoe collection. (Yes, Balenciaga makes sneakers!) While it may not be the first thing people associate with the well-known and respected designer, you better believe that they make beautiful, stylish and surprisingly very comfortable sneakers.
Here are five of the most popular types of Balenciaga sneakers:
1. Gray Technic Fishnet Sneakers
While these bad boys were inspired by men's trainers, these Balenciaga beauts are all for the ladies! Light grey in color, they have technical stretch fishnet fabric as well as split leather details. You can roll as one of the guys in them but still have that feminine flair at the same time. The light color is the perfect last touch for a trendy and cool summer outfit.
2. Black Monochrome Grid Sneakers
Channel your inner rock star diva with these ultra-cool kicks! The black and white two-toned pattern is edgy enough for the most feminine of ladies who want to "rough it up" a bit.
3. Alligator Print Sneakers
This sneaker is seemingly the most popular type of Balenciaga sneaker, as there are very similar types with different colors available through the designer. Who could resist the feminine monochrome sneakers that have the fake crocodile skin effect along with black suede with it?! The black color of the shoes make it very versatile and easy to pair with any outfit!
4. Printed Canvas Sneakers
These uber-comfortable sneaks are made of blue suede, black leather and printed canvas upper. Paired with skinny jeans and a plain white casual tee, you'll be looking like a model in no time! It's great for working out or running around town doing errands.
5. Purple Neoprene Leather and Suede Sneakers
With its rich purple hue and black leather combination, this sneaker has the perfect amount of chicness to it. It's comfortable enough to workout in, but also elegant enough to sport going around on a daily basis.
Photo by Bryan Bedder/Getty Images for Balenciaga