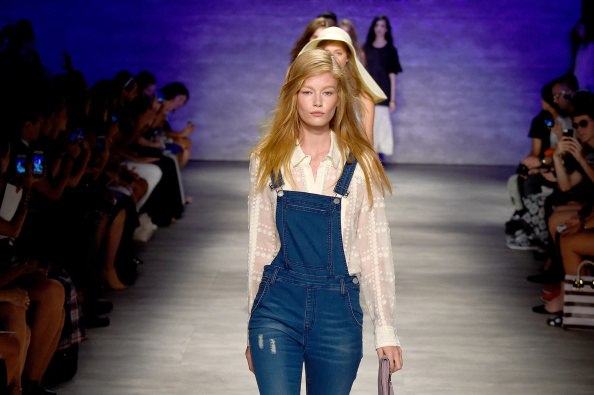 New York Fashion Week is in full effect this week and we are definitely jealous of all of the celebs sitting front row at all the designers' runway shows. Sure, we may not be celebrities nor do we have invites to NYFW, but that doesn't mean we have to be left out of all the festivities! One of the designers showing off the latest season's clothing is the ever-classy Rebecca Minkoff, whom I truly adore especially for her purses. The trendy fashion designer is making headlines this week with her technology driven fashions for her Spring 2015 collection.
Here are five Rebecca Minkoff outfits you have to try:
1. Pajamas: While most of us wouldn't be caught dead in our PJs, this outfit is more sweet than scrubby. Following the loungewear frocks that have been appearing the last few season, it's great to rock when going to an outdoor music festival or even a barbecue or pool party.
2. Slim-fitting overalls: Remember when baggy overalls were a thing? While the overalls of yesteryear were more  farming and ranching than couture, this outfit modernizes the old denim look in a much more sleek manner.
3. Flowing dresses and floppy hats: Just because it's after Labor Day doesn't mean you have to stop going to the beach – or, in this case, wearing beach outfits! Loose-fitting flowing dresses were all the rage in the designer's show and will easily find its way into your wardrobe.
4. Shirts and skirts with ruffles: You may have hated wearing ruffles as a kid (believe me, I did!) but the designer's giving simple and edgy pieces of clothing a feminine twist with ruffles is actually something I can get on board with.
5. Skirts with Cambridge stripes: A nice contract from some of her bolder patterns, the traditional Cambridge stripes give the outfit a more casual – but still put-together – kind of look.
(Photo by Frazer Harrison/Getty Images for Mercedes-Benz Fashion Week)