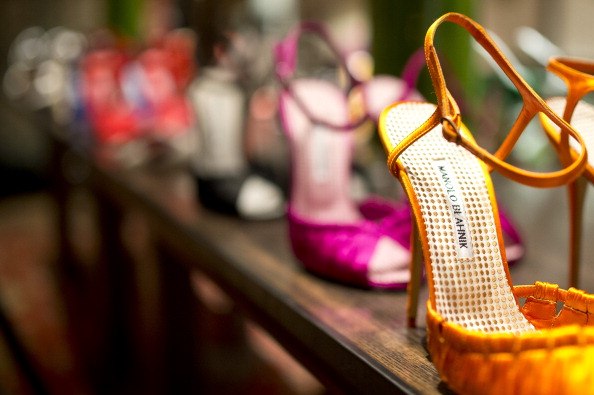 Carrie Bradshaw loved her Manolos on the series Sex and the City – and it's a wonder that she had so many. After all, the famed designer's shoes were easily some of the most expensive shoes in the world. As a newspaper column writer, it's a wonder that she could afford such luxurious shoes! Manolo Blahnik shoes are worlds away from being cheap or even affordable for many, which is probably most of its appeal. If you thought that any and all Manolos would probably break the bank, or at the very least would make a significant dent into it, be prepared to find out what the top of the top, most expensive Manolo shoes are.
Here are five of the most expensive Manolo Blahnik shoes out there:
1. Baskegrod Open-Toe Grommet Suede Ankle Boot – $2,055
These suede booties are one of the (if not THE) most expensive shoes from Manolo Blahnik out there currently. With its chic peep toe, versatile camel color and leather lining and sole, you definitely get what you pay for! The high quality plus the trend factor makes this the perfect splurge.
2. BB Ostrich Leather Pumps – $1,985
For a more luxurious and exotic style, the designer brings you Ostrich leather on the top of the shoe, with a point toe, leather lining, and a padding inside.
3. BB Crystal Satin 105mm Pump, $1,875
Now in a beautiful crystal blue color, this slip on style, pointed toe stiletto is not only super easy to wear, but also very colorful and gorgeous to don. It has leather lining, sole and even a padded insole.
4. Pampa Snakeskin & Sueded Knee-High Boots – $1,695
This two-toned knee-high boots is adorably cute! Combining the suede and leather of the shoes was genius on their part, including the snakeskin and suede.
5. BB Jet Crystal-Coated Satin Pumps – $1,685
This Italian made pump may cost a pretty penny, but there's good reason: it's coated in Swarovski crystals at the top! The leather lining and pointed toe keeps the shoe quite chic, while the padded insole keeps it comfortable as well as gorgeous!
Photo by Ben A. Pruchnie/Getty Images