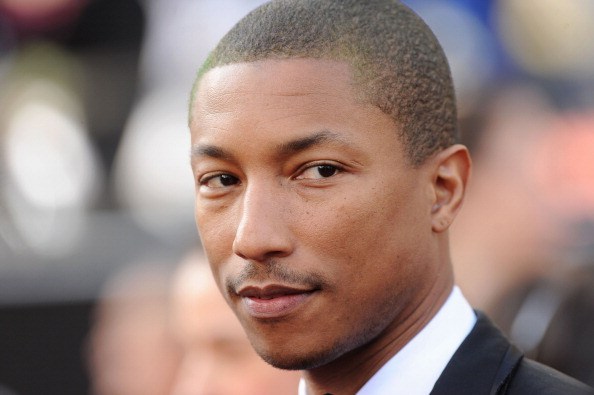 It's official: 2014 is Pharrell Williams' year. The award-winning singer-producer, whose infectious hit "Happy" is playing on the radio somewhere as you read this, can add another endeavor to his list of accomplishments. Pharrell will be joining the hit NBC singing competition The Voice for its seventh season this fall, the network announced Monday.
The 40-year-old singer-producer will be joining the show's jury this fall, replacing current longtime coach Cee Lo Green, who left the show for other opportunities in the network. Pharrell will be joining The Voice panel, which include Maroon 5 frontman Adam Levine, pop star Christina Aguilera and country crooner Blake Shelton.
Pharrell has garnered lots of momentum in the last year with hit after hit, including performing on Robin Thicke's ever-played dance club staple "Blurred Lines," Daft Punk's Grammy-winning track "Get Lucky." He also won himself an Oscar this year for his infectious hit "Happy" that was featured in the movie Despicable Me 2, which he composed the music for.
Aside from his musical accomplishments, he has made a name for himself in the fashion world. Pharrell is a seasoned fashion designer, but his love of fashion was even more apparent especially after wearing a seemingly strange but very couture giant brown hat to the Grammys and donned a tuxedo with shorts for this year's Oscars.
The Voice, which averages about 13.8 million viewers an episode, has surpassed its competitor American Idol by about 3 million viewers this season. With Pharrell joining the panel, who knows how high viewership will rise?! All we know is that we'll definitely be tuning in this fall to see just how he does!
Photo by Jason Merritt/Getty Images