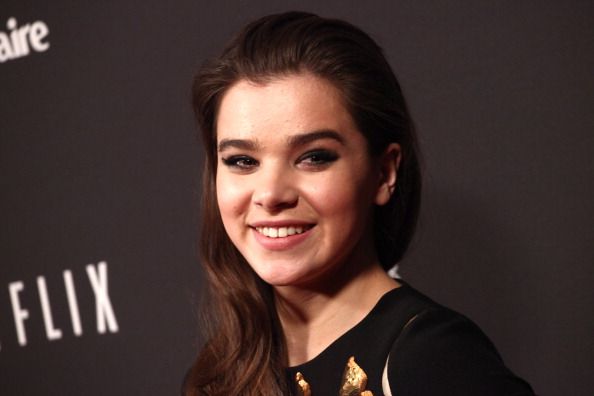 With a successful first movie, the 2012 hit musical film Pitch Perfect is getting a sequel with Pitch Perfect 2. Many of the first film's stars will be returning for the highly anticipated second flick, but there's one new (but familiar) face: Hailee Steinfeld. The Oscar-nominated True Grit star will be joining the likes of the original film's cast, including Anna Kendrick, Rebel Wilson, Brittany Snow and Elizabeth Banks, as well as Ester Dean, Kelley Jakle, Alexis Knapp and Hana Mae Lee.
Steinfeld excitedly took to Twitter to express her sentiment, writing,"It's official and I'm SO excited!" along with a Twitpic of her from the movie's official Twitter feed that was splashed with the words "Welcome to the Bellas, Hailee Steinfeld," referring to the a cappella group, The Barden Bellas, that rocked the first Pitch Perfect.  
While the film's premise as well as Steinfeld's role is unknown at the moment, it's speculated that the 17- year-old is the perfect age to portray a college freshman new to the college world of a cappella competition.  It is also speculated that Kendrick and Wilson's characters will be graduating seniors.
Banks, who produced and appeared in the first film and who will make her feature directorial debut in the sequel, welcomed the new cast member to the team via Twitter, saying: "Welcome to the Barden Bellas! Now lace up your dancing shoes, and get your tush down to Baton Rouge. #PitchPerfect2"
In a recent interview with Huffington Post, Banks teased the premise of the sequel, saying, "All I can say right now is that they will be graduating seniors this time around, rather than incoming freshmen."
"I'm really excited to direct the girls," she added. "The whole project speaks so much to me and to women and to making women funny in really fun and interesting ways, and that's what I'm most looking forward to. I'm looking forward to letting the girls let loose."
Pitch Perfect 2 is set to hit theaters May 15, 2015.
Photo by Tommaso Boddi/Getty Images