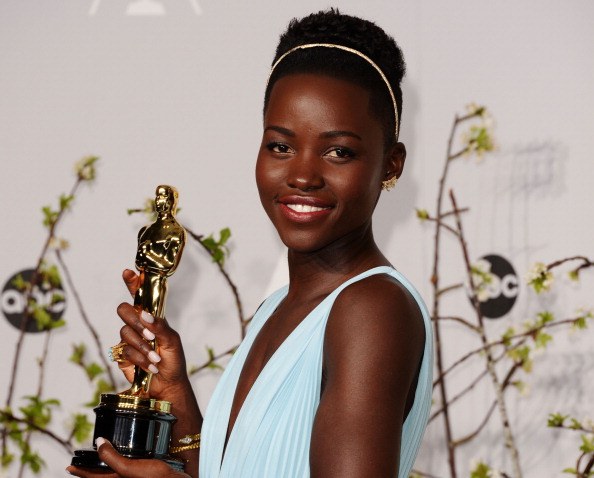 To say that Lupita Nyong'o is having quite the amazing year would be an understatement. From her award-winning role to being hailed "Best Dressed" at every red carpet she steps foot on, the 12 Years a Slave actress is charming all of Hollywood.  The icing on the cake: the 31-year-old was just named People's "Most Beautiful Person of 2014" – a title that the magazine holds as its highest honor.
The Mexican-born Kenyan starlet joins the ranks of Hollywood's A-list elite including Julia Roberts, Cindy Crawford, Tom Cruise and Beyonce. She beat out others on People's list this year, including Pink, Stacy Keibler, Kerry Washington, and Johnny Depp's fiancé, Amber Heard. In her People cover issue, Nyong'o admitted that though she grew up thinking that "light skin and flowing, straight hair" made women desirable, her mother "always said [she] was beautiful. And [she] finally believed her at some point."
The down-to-earth actress gave a moving speech in February, making headlines when she accepted her award for the Best Breakthrough Performance at the 7th annual Black Women in Hollywood luncheon.
"I remember a time when I too felt unbeautiful," she said."I put on the TV and only saw pale skin. I got teased and taunted about my night-shaded skin."
The Oscar-winning actress told Today Show anchor Savannah Guthrie that she was moved by People naming her the most beautiful.
"I'm flattered, but flattered sounds like such a flighty word, you know? I'm flattered with, like, gravitas under it," she said.
This year's most beautiful cover issue is the 25th annual one for People magazine. The title's first honoree went to actress Michelle Pfeiffer in 1990, and last year's title went to Gwyneth Paltrow.
Photo by Jason Merritt/Getty Images