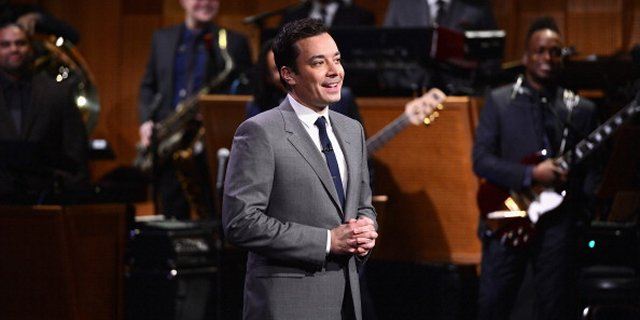 Jimmy Fallon has some big shoes to fill: following on the heels of Jay Leno's exit from his 22-year stint as the host of NBC's "Tonight Show" last week came Jimmy's first-ever show at his new gig. On Monday night the comedian nervously took center stage, but swiftly warmed up thanks to a few family members and some famous friends.
The 39-year-old seasoned comedian, backed by his house band The Roots, started off a sentimental opening monologue with, "I really don't know how I got here." (Cue the waterworks!) He also recalls his own memories of his first taste of late night. As his parents blew kisses from the audience, Jimmy recounted, "I remember asking my parents to stay up late to watch Johnny Carson. I can just think there's some kid asking their parents to stay up to watch me."
Admitting to the pressure of hosting such a show, Jimmy quipped to his 240-person studio audience as well to the home-viewers: "I'll be your host … for now." Luckily, he had a plethora of celeb friends to help him launch his new endeavor. After Jimmy said he made a bet with a friend that he would eventually host the "Tonight Show," Robert DeNiro strolled out through the curtain, handing Jimmy a $100 bill. Following the A-list actor were other celebrities including Tina Fey, Seth Rogen, Kim Kardashian, Sarah Jessica Parker, Tracey Morgan, Lady Gaga, Lindsay Lohan, Mike Tyson, Mariah Carey, all playing naysayers while giving the new host quite the welcome wagon.
Another highlight of his first "Tonight Show" was first guest Will Smith, who later danced with Jimmy in a hip hop dance demonstration, which even had the host twerking! Jimmy also mentioned the fact that it was the first time in 40 years that the show was hosted in New York, referring to the fact that the show moved from the Burbank studios to its current New York City location. Musical band U2 celebrated the historical event with a rooftop performance of their new song, "Invisible," on a building in Rockefeller Center.
Jimmy earnestly told his audience, "I just want to do well. If you guys let me stick around long enough, maybe I'll get the hang of it."
Here's to a great, long run, Jimmy!
Photo by Theo Wargo/Getty Images for The Tonight Show Starring Jimmy Fallon