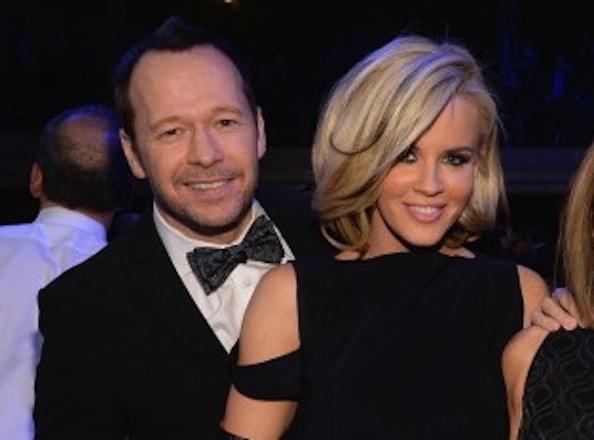 It's a match made in '90s heaven: Jenny McCarthy and Donnie Wahlberg are engaged! The hearts of teens from the late '80s and early '90s were crushed today after McCarthy announced on her ABC show The View on April 16 that her New Kids on the Block boyfriend proposed this past weekend.
"I just got engaged!" she gushed, jumping up and down and hugging her co-hosts. The 41-year-old actress showed off her "yellow sapphire" engagement ring as well as shared details on-air. She revealed that her 11-year-old son Evan had a hand in assisting Wahlberg out with the proposal.
"This weekend I was sitting with Donnie … and he went into the other room and out came Evan with a card that said 'Will' and he handed it to me," she said.
"Then Evan ran away and Evan came in with a card that said 'You.' … I just started crying and then Evan came back into the room with the word 'Marry' — but spelled wrong. The last time, Donnie came out with Evan and Donnie's shirt said 'Me' with a question mark … and he got down on his knee," she recalled.
"Of course, I said 'Yes,'" she said. "In that moment Evan yelled, 'I have another dad!' and it made all of us cry."
This will be the second marriage for both McCarthy and Wahlberg. The two were revealed as a couple in July 2013.
When asked about the date of the nuptials, McCarthy said they didn't know yet, but added that the two were considering an August 2015 wedding.
Congratulations to the happy couple!
Photo by Larry Busacca/Getty Images