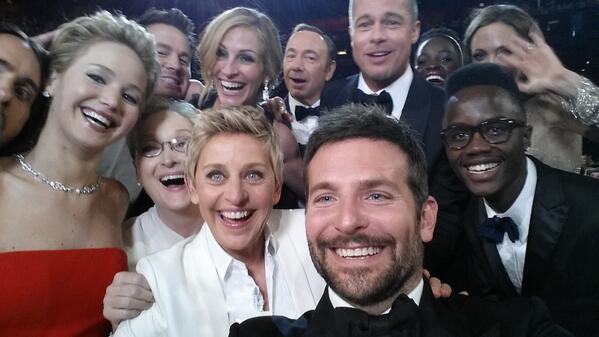 It's a wrap for Tinsel Town's big night, the Oscars. The 86th Academy Awards telecast was a highly memorable one, with the funny Ellen DeGeneres leading the show as host of the night. Much like her daytime talk show, Ellen acts like she's everyone's best friend (which she pretty much is) and the whole show tonality was more warm compared to previous years. There were a lot of Oscar surprises (Gravity scored some big wins, winning 6 out of their 7 nominations) as well as some Oscar snubs (which all boils down to one former teen heartthrob).
Here are some of the biggest moments from this year's Oscars:
– Jennifer Lawrence falls on the red carpet.
Oops, she did it again! While it wasn't as major as falling during the actual ceremony to receive an award, J. Law seems to be making it her personal tradition of falling down at the Oscars! She took a tumble while getting out of her limo, tripping on a cone. Someone get this girl some new shoes!
– Ellen breaks Twitter.
After posting quite possibly the best selfie ever taken, Ellen's selfie photo with A-list celebrities Bradley Cooper, Jennifer Lawrence, Jared Leto, Julia Roberts, Meryl Streep, Brad Pitt, Kevin Spacey, Angelina Jolie, and Lupita Nyong'o was one of the most retweeted tweets ever, causing the Twitter server to break down for a cool moment. Talk about a historical (and hysterical) moment!
– Bette Midler sings "The Wind Beneath My Wings."
Post-In Memoriam slide show, Bette Midler made us all nostalgic by singing the song from the 1988 flick Beaches, her hit "The Wind Beneath My Wings." Even though her classic tune is over 25 years old, it was Bette's first performance at the Oscars. You can bet there wasn't a dry eye in the Dolby Theater – or at home!
– John Travolta butchers Idina Menzel's name.
Someone must have missed rehearsals! John Travolta made a truly lovely introduction speech when he was to announce Frozen actress Idina Menzel to sing the Oscar winning movie's song. It was perfect up until the moment he attempted to pronounce her name – and then it was all downhill from there. John's big oopsie has not only garnered memes and replays of his pronunciation fumble, it also birthed the Twitter handle @AdeleDazim. Hilarious!
– Dallas Buyers Club dedicated actors win big.
Jared Leto and Matthew McConaughey won the Best Supporting Actor and Best Actor categories for their work in the acclaimed Dallas Buyers Club. The two stunning gentlemen had to endure not-so-glamorous conditions for their roles, losing an incredible – not to mention scary – amount of weight. They also brought along their mothers as their dates for the big event… swoon!
– Leonardo DiCaprio loses Best Actor – once again.
Poor Leo, those Academy folks sure don't seem to like him! The Wolf of Wall Street actor has been nominated (and snubbed) four times for Best Actor. Don't worry Leo, you're still the best in our eyes!
Photo Courtesy of Twitter @TheEllenShow