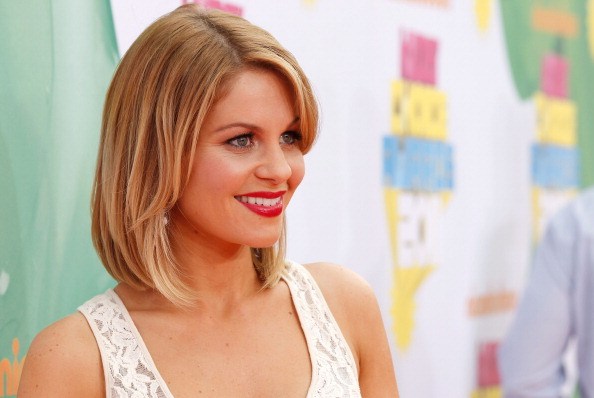 Just when you thought that Dancing With the Stars – whose latest season started March 17 – was just some run-of-the-mill boring dancing show, think again! With this new batch of celebrities also comes along their pasts and two of them have some pretty colorful history with each other. Who could they be? None other than '90s child stars Candace Cameron Bure and Danica McKellar!
What in the world could Full House's DJ Tanner and The Wonder Years' Winnie Cooper be feuding over? The two revealed during the season's debut that back in the day, the '90s starlets were involved in somewhat of a love triangle. While saying that Candace and Danica had a  "rivalry" is a bit of a stretch; the two are actually good friends. As it turns out, both of TV's sweethearts dated the same guy as young teens: Jeremy Miller from Growing Pains.
Danica let the cat out of the bag, telling E! News, "I knew that Candace's was Jeremy's ex-girlfriend. I mean, look, we were 13. Nothing was happening. But like, I didn't know that he broke up with her for me. Like, I really didn't know that until last week!" She also revealed her goofy side, joking  that the two would have to resort to "mud-wrestling…that's one of the new twists in the show. I'm kidding!"
A kind Candace downplayed the whole "feud," clarifying that it was "a love triangle when we were like 11…we were like 11, I was not allowed to date until I was 16, so you can imagine it was a really big love triangle."
But while Candace may have lost Jeremy to Danica in the good old days, that doesn't mean Candace can't take her down on the dance floor!
Photo by Christopher Polk/KCA2011/Getty Images for Nickelodeon