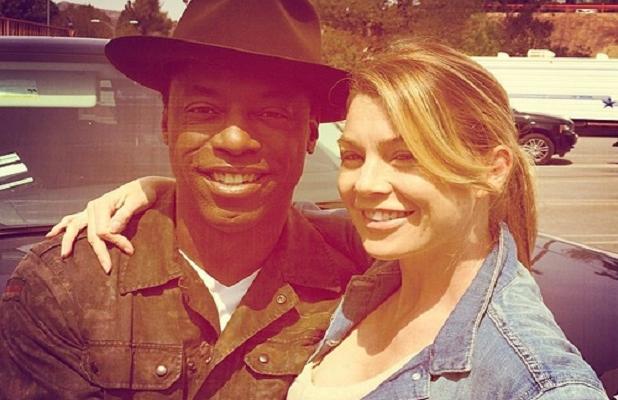 When it was first announced earlier this month that Isaiah Washington was making his return to the beloved ABC hospital drama Grey's Anatomy, it seemed highly improbable. After all, his departure from the show years ago was quite the controversial one. But with a new photo surfacing of Washington and his Grey's co-star Ellen Pompeo from the lot making the rounds, it's living proof that his character's return is very much the real deal. Pompeo proved the naysayers wrong, throwing up a photo of the two on her Instagram this week, teasing Washington's return. Yes, you read that right: it's really happening!  
She wrote "Burke is back," as a reference to Washington's character, Dr. Preston Burke. She also added the hashtags, "#itsallgoodinthehood" and "#burkeisback."
This is a very interesting move, as Washington is currently starring in the CW series The 100. He previously made quite the public  exit from Grey's in 2007 after making controversial, homophobic comments toward co-star T.R. Knight.  
It was in early March that news broke that the prodigal actor would be making a comeback for cast member Sandra Oh's final episode on the series, which would be airing in May. Grey's creator Shonda Rhimes said that Washington's character is vital to wrapping up Oh's character Cristina Yang's story.
"It's important to me that Cristina's journey unfolds exactly as it should," Rhimes said. "Burke is vital to that journey — he gives her story that full-circle moment we need to properly say goodbye to our beloved Cristina Yang."
Image via Instagram