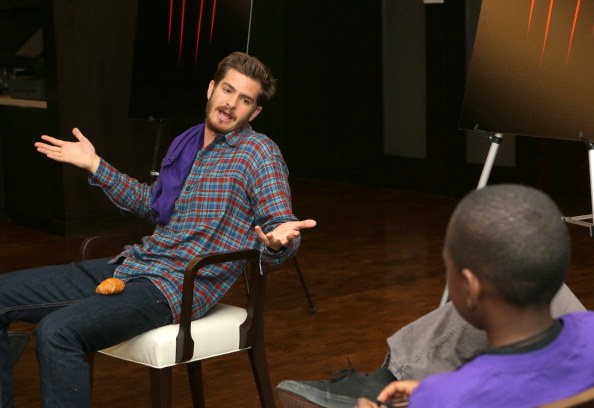 Despite the rumors speculating that actor Andrew Garfield refused to appear with Miles Scott – better known as Batkid – at last week's Oscar awards, here's the skinny: Garfield ended up meeting the adorable kid at the happiest place on Earth, Disneyland! There was some hearsay and talk throughout Tinsel Town, with people spreading word that a segment featuring the Spiderman actor and the 5-year-old leukemia patient at last week's ceremony was pulled due to the actor's problem with the script. Contrary to the rumors, Andrew Garfield did not snub Batkid or the Oscars. Even Academy officials have spoken out to clear the actor's name.
"Due to the nature of a live show, hard decisions sometimes must be made which require the Academy to cut segments due to the logistics of production," a spokesman for the Academy previously stated. "Andrew Garfield understood that his segment had to be omitted, and he drove to Disneyland on Monday to spend time with 5-year-old Miles Scott (Batkid) and his family."
Still, aside from the clarification, many weren't convinced and still held that Garfield was just a mean-spirited actor and meant to snub Batkid.
According to Us Weekly, Garfield's rep stated: "Here are the facts. In full collaboration with the Academy and the show writer, Andrew prepared a segment for the Oscars to honor Miles Scott as the true hero that he is. At some point overnight on Saturday/Sunday morning, it was decided by those running the show that the segment didn't work in the ceremony. The producers arranged for Miles and his family to visit Disneyland on Monday and Andrew drove down to visit them and to bring Miles a personal gift. Andrew did the right thing for Batkid and anyone saying otherwise is flat out lying."
Who needs the Academy when you've got Mickey Mouse – and apparently Spiderman – at your side?!