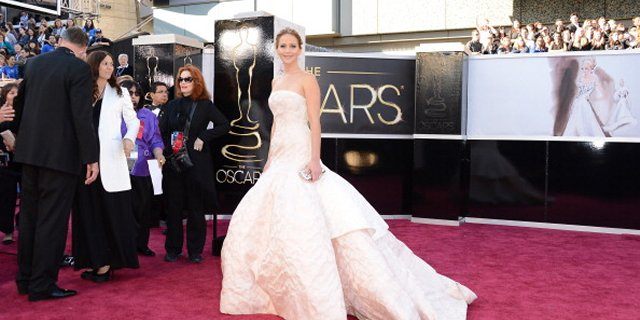 This coming Sunday, March 2nd marks the 86th Academy Awards, one of the biggest awards shows Hollywood has to offer. Hosted by Ellen DeGeneres for the second time, the ceremony is sure to be one that is talked about, from the dresses to the speeches. There have been some very hilarious and shocking happenings at the esteemed awards show throughout the history of the Oscars.
Here are 5 of the most memorable moments in Oscar history:
– When Marlon Brando turned down his award. The Godfather star refused to accept the prestigious award in 1973 and instead sent up Sacheen Littlefeather to protest Hollywood's treatment of Native Americans.
– When Jennifer Lawrence fell. In 2013, Jennifer won the Best Actress award for her work in The Silver Linings Playbook when the most embarrassing thing that could ever happen happened: she tripped up the steps while going to accept her award! She received a standing ovation and shockingly said, "Thank you so much. This is nuts. You guys are only standing up because I fell and you feel bad. That was embarrassing." 
– When Cuba Gooding Jr. got super-excited about his win. The Jerry Maguire actor gave his character in the movie a run for his money when he accepted his award for Best Supporting Actor in 1996. His enthusiasm was infectious as the crowd started to cheer alongside him. Precious!
– When Halle Berry made history. The Monster Ball actress was the first African American to win the Best Actress category in 2002.
– When Martin Scorsese FINALLY got his Oscar. The acclaimed director of Taxi, Raging Bull and other cinematic greats finally got the recognition he deserved in 2007 after losing out five times, winning for his work on The Departed. He joked,  "Could you double-check the envelope?"
Photo by Jason Merritt/Getty Images