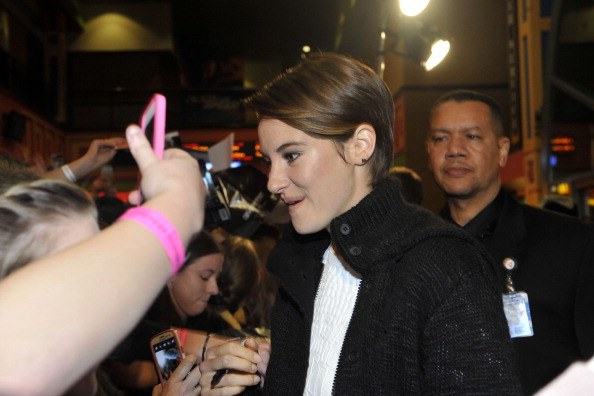 It's one of the most talked-about movies coming up, but you don't have to be a young adult to enjoy this new flick! People of all ages have been hyping up Divergent, the latest in the novel-to-film category. Based on Veronica Roth's young-adult book series, the film stars the likes of Shailene Woodley (The Descendants), Theo James, Miles Teller, Zoe Kravitz and Kate Winslet. Hitting theaters March 21st, the movie is about a futuristic world where people are divided in separate factions based on their virtues.
Here are some fun facts about the upcoming movie:
1. This isn't the first time stars Shailene Woodley and Miles Teller have appeared in a movie together: the two starred in last year's The Spectacular Now.
2. The director Neil Burger is the mastermind behind the camera, directing The Illusionist, The Lucky Ones, and Limitless prior to taking on the Divergent movie.
3. Shailene Woodley landed the role of Tris on October 22, 2012. Casting the leading man Tobias "Four" Eaton was a bit more challenging; Magic Mike's Alex Pettyfer, Hunger Games actor Alexander Ludwig, and War Horse's Jeremy Irvine were all up for the role. In the end, it was his striking chemistry with Shailene that won Theo James the part, with his casting announced on March 15, 2013.
4. British songstress Ellie Goulding was tapped to sing on the soundtrack, debuting a brand new song entitled "Beating Heart," as well as three previously released song which can be found on her album, Halcyon: "Hanging On," "Dead in the Water," and "My Blood."
Director Neil Burger told Entertainment Weekly: "Ellie wrote 'Beating Heart' and we knew it'd be perfect for the end of the movie. Her lyrics almost merge with Tris' (Shailene Woodley) voice-over and her music lets the movie soar above the tragedy. The sadness is still there but so is the transcendence. It's a fantastic song."
5. The movie is estimated to make a whopping $50 million in its opening weekend.
Photo by Moses Robinson/Getty Images