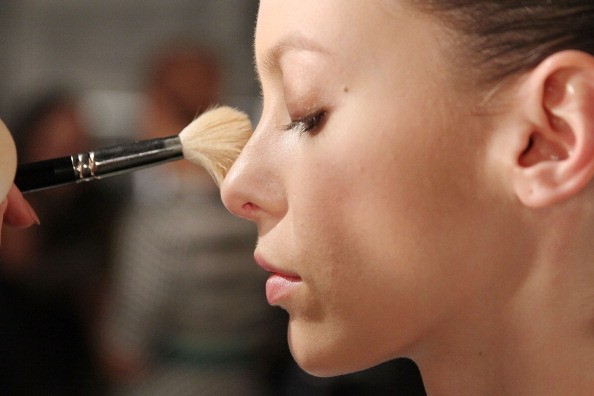 Makeup: I never leave home without it – for several reasons. The most important reason is my vanity. I don't like to feel as if I look less than my best. I feel more comfortable in makeup, hair done and in a lovely outfit. I feel more confident, more productive and I'm in a much better mood when I'm put together than I do when I'm not, and I prefer not to have my mood for the day negatively affected over a little mascara and foundation. Secondly, I've perfected my makeup routine to less than 5 minutes so I feel quite lazy and out-of-sorts if I skip it. Finally, however, I do it because I like to protect my skin and wearing makeup is the best way for me to do that. Don't get me wrong, I'm a firm believer that less is usually always more, but I'm also a believer that my makeup is what keeps my skin healthy.
My foundation is a powder foundation, and it is an SPF foundation. Plain and simple, if I didn't not wear foundation every single day, I'd not wear sunscreen on my face and I'd do significant damage to my skin. With borderline oily skin, I don't care to put much on my face in terms of liquid, so it's either moisturizer or sunscreen, and sunscreen makes my face feel greasy and it causes breakouts. So I'd skip it if it weren't for the sunscreen in my foundation.
Additionally, when I wear makeup, it's healthier for everyone around me. Seriously, I'm in a bad mood if I don't feel pretty. And I have a temper, so things sometimes get ugly (like my face…I kid, I kid). In all seriousness, there are many people who claim that they go makeup free because it's better for their skin. And you know what? For some people, that's true. For me, it's not. If you're not sure whether or not foundation is really for you, let me just tell you why foundation can be better than no makeup at times.
Why is Foundation Safer?
According to skin care experts, the reason is simple. Makeup that contains SPF is safer to wear on the skin than wearing no makeup at all. For one, these foundations are very superficial, which means they are not penetrating layer after layer of your skin. This is keeping chemicals out of your body and leaving them on a very superficial level, which is all that's needed to protect the skin from the damaging rays of the sun. On that note, it's also been proven that a liquid foundation is far more protective than a powder foundation as far as sunscreen is concerned, but either will do the job and protect your skin.
Sunscreen is the best way to protect your skin in any circumstance. While it might seem as if sunscreen is only necessary if you plan on spending any time in the sun, this is not the case. In fact, you should wear sunscreen every single day, whether you are headed to the office with no intention of spending more than just the commute from car to office outside or if you're headed to the beach for the day. Most of us fail to consider factors such as sunlight that comes into our homes and cars and offices through windows. Those glass partitions are not enough to keep damaging UV rays from attacking our skin – even though not one of us is getting a great tan sitting in the office.
Skin Concerns
For some, the concept of wearing makeup is a concern that has more to do with their pores and the appearance of their skin more so than anything else. If you take my skin as an example, you would see that it's borderline oily. During the summer months in Florida, my skin becomes even oilier and makes it really difficult for me to feel clean. During winter months, it dries out more and I actually enjoy that time more than any other. For me, however, wearing a sunscreen in the summer means adding an additional layer of 'oil' to my face, and I don't care for that. My solution is to wear a powder foundation (bareMinerals) that contains SPF so that I'm getting the protection that my skin needs without causing my skin to become any oilier. Liquid foundation, to this point, does nothing for me but make me feel cakier and oilier – but I'm always looking.
My pores feel healthier when I wear a powder foundation, and I've never felt that it's being 'stuck' in my pores or clogging them in any way even though the air is hot and my pores feel much larger this time of year.
But, according to skin care experts, women with skin that leans more toward dry should not wear a powder foundation as it is not going to offer the kind of protection that the skin needs. A liquid foundation would be more appropriate for dry skin – which means perhaps I should consider trying out more liquid foundations come winter when my skin dries out a bit.
The moral of the story is that for many of us, wearing foundation is far better than not. But that does not mean it's always better to wear foundation. For women who are happy wearing no makeup at all, a great SPF moisturizer makes a wonderful addition to your skin care routine. It's a common misconception that women who prefer to leave their faces 'naked' don't bother with any type of skin care routine. It's just not true; a desire not to wear makeup doesn't mean women aren't caring for their skin at all. Just remember to lather on the SPF if you choose to go foundation free so that you protect your skin from the sun and prevent yourself from sun damage, skin damage, sun spots and premature aging. Even if you don't like makeup, you probably don't want to look 20 years older than you actually are.
Photo by Mireya Acierto/Getty Images