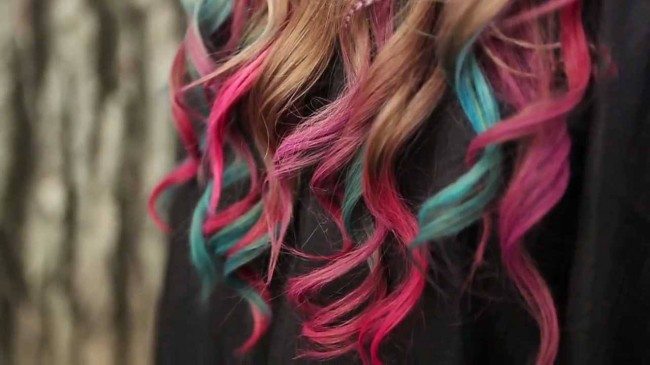 The newest hair coloring hair craze is chalking your hair. It is just what it sounds like. Taking colorful pieces of specially-made chalk and playing dress up with your locks! Hair chalking is a quick, easy, and inexpensive way to temporarily color your hair without making any big commitments.  Here's a quick guide on how to chalk your hair.
First buy the chalk. You can buy inexpensive non-oil-based pastels at places like Sally's, Ricky's, and Michael's for anywhere between around $5 and $60. Just depends on if you want to save or splurge. All you need other than the chalk is a water bottle, protective gloves, towels and a flat iron.
Prep your hair by wetting it so the color will attach to it. But if you're a blonde, wetting the hair will keep the color in longer so it's up to you whether you do it with your hair wet or dry.
Apply to the chalk to a chunk of strands of your hair, using a downward motion. Twist the hair as you chalk. For a fun ombre look, start further down your hair away from your scalp.
Next, let your hair dry. You can blowdry your hair, but air drying is recommended to prevent the chalk from blowing off.
Once your hair is dry, seal the color in with a flat iron or a curling iron if you want to add waves. Apply hair spray as a final step.
When you grow tired of the color, you can simply shampoo it out. However, if your hair is more porous, such as color-treated blonde hair, the color may last a couple shampoos. You can use a clarifying shampoo or dish soap to remove the color more quickly, as both have more detergent. Just make sure to only use dish soap on the strands that have been chalked.
(Photos courtesy of hairiffic.com and montsergirl.blogspot.com)
Here are some more Hair Chalking Pointers
1) Don't use any wax or product to apply the chalk.
2) Wear protective clothing when applying and sleep on an old pillow case because the color will transfer onto the pillow.
3) Don't use hair chalk if you are going to be in the water or on a rainy day.
4) Brunettes can use any color hair chalk. The lighter the hue, the more intense the chalk color will be.
5) Blondes can use hair chalk but do not wet your hair first.
6) Redheads need to be a bit more picky when choosing chalk colors. Try pink, yellow, blue, or green.
7) Women with black hair should choose bright, vibrant shades.
(Lead Image courtesy of designyoutrust.com)