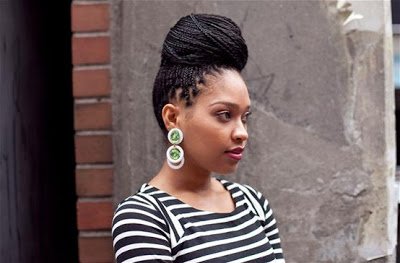 Box braids never really went out of style. Women have been rocking the look for centuries and they just don't seem to stop. But why should they when the look is just as cool and casual now as it was in the early 90s when the look was at its most popular peak. When Stacey Dash rocked the box braid style in Clueless (she was Dionne, remember?) women everywhere began to use this look as a go-to look for their hair because of its simplicity and its chic style.
Today, it's not uncommon to see some of the biggest stars in the world rocking the look. From Beyonce to Nicki Minaj to everyone in between, these braids are back and better than ever because of their casual elegance and their versatility. If you're considering the box braid look, we have a few suggestions that will help you rock the look in the most stylish manner. Read on to find out which three simple ways we recommend wearing yours.
The Classic Bun
Piled on top of your head in a classic bun, box braids are chic. It's a simple way to wear these braids to the office, the boardroom and even to an event that requires a bit more sophistication than usual. The look is simple and takes only a few minutes, and it's something anyone can do.
Down with a Center Part
If you're looking to be exceptionally casual, this is how you're going to do it in the best possible manner. By parting your hair down the center and leaving your hair down, you can create a very casual and elegant look that's a mixture of classic boho chic and casual. It screams Sunday brunch and a day of shopping.
Simple Pony
Finally, we always recommend a simple ponytail for this style. It's elegant and simple, and it's perfect for running errands, heading to the gym and creating a look casual but put-together enough to work just about anywhere you go.
Photo by Twitter