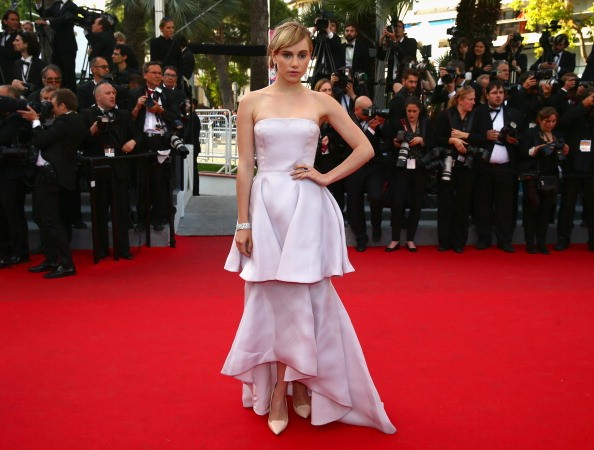 If you have swept bangs, you understand how hard it is to get them to style correctly; trust me, I say this with 31 years of experience under my proverbial belt. It can be a hassle to get the perfect side sweep on bangs, no matter the length. They're supposed to be easy to style, and they're supposed to be effortless. Of course that effortless look would be something that requires more time and effort than a full-on blowout. It's life with long hair.
If you're considering swept bangs or you already have them but you don't have a clue how to style them quickly and efficiently, take a moment to change your life. We have the simple, quick and timeless solution to your problem. It works wonders – I have four small children and I have effortlessly swept bangs every day since my stylist taught me this amazing trick. Here we go; the secret is out.
Put Your Bangs Up
If you're drying or curling the rest of your hair, put your bangs up in a clip so that they stay damp and out of the way. You're definitely going to want to do your hair and makeup first before you mess with your bangs. It's going to make your life a lot simpler. Just remember to go ahead and put your styling cream in first.
Get the Right Tools
What you'll need for the job is simple; a hair dryer, a flat iron, and a big round brush with tight, firm bristles. Once you're done with everything else and ready to work on your bangs, have these items out and ready to use.
Start Styling
Take your bangs out of their clip and brush them forward so that you look a bit like Cousin It. Next, take your big round brush and put it under your bangs. Put the brush all the way up to the top of your scalp with your bangs on top and pull it down as you blow dry. Do this repeatedly until your bangs are dry, pulling them to the side you prefer they sweep as you go.
Iron Them
Now that they're dry and pulled to the side you want, run the flat iron over your bangs heading in the direction of the sweep. This is going to make it so much easier for you to style them like this. Spray a little hairspray on and call it a day. *Note that the more often you do this, the more you will train your bangs to begin to sweep naturally to that side.
Photo by Vittorio Zunino Celotto/Getty Images