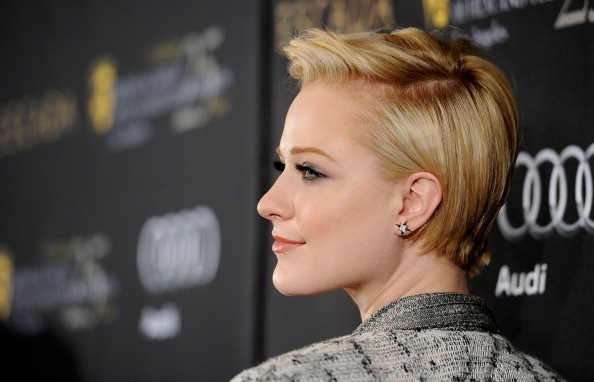 Asymmetrical hair is one of the boldest, chicest looks around. However, it's a scary one to attempt. Cutting your hair short on one side and even shorter on the other is a frightening thought for some women. If you dare to go for this bold and trendy cut, you're going to want to learn a few tips that will help you to take care of your angled cut when it's freshly cut and when it's in the process of growing out.
Think Sleek
One of the best ways to wear an asymmetrical cut is sleek and straight. To do this, you're going to need to use a flatiron. Before you straighten your hair, however, you will need to protect it from the heat. This is best done by applying a heat protective cream prior to blow drying and straightening. It'll help to keep it from frizzing and drying out.
Cut Bangs
Believe it or not, you can cut bangs with an asymmetrical cut. The key is to cut bangs so that they lay the same direction as your hair. This is a great way to ensure that you have a bit of a layered look. Be sure to keep bangs cut thick. Too thin and they will look a little off with the rest of your hair.
Try Beachy Waves
There are products that will help your hair to look perfectly imperfect, which is sometimes what you need to go for when you're in the process of rushing through your morning with an asymmetrical hair cut. Applying this balm to your hair will allow you to let it air dry and go without having to take the time to style your hair if you're already late.
Wash Every Other Day
Don't wash your hair daily. Dirty hair is easier to style, which means you might actually prefer to style your asymmetrical cut on the second day. Dry shampoo is a great option if your hair is a little on the greasy side; it will help prevent your hair from becoming greasy and difficult to tame.
Dress the Part
Believe it or not, you have to dress the part if you want to rock an asymmetrical hair style. This hair style will not work on someone in mom jeans and tennis shoes. This is a hip look that deserves a hip wardrobe, subtle makeup and confidence. You will not love this cut if you don't possess all three.
(Photo by Frazer Harrison/Getty Images For BAFTA Los Angeles)