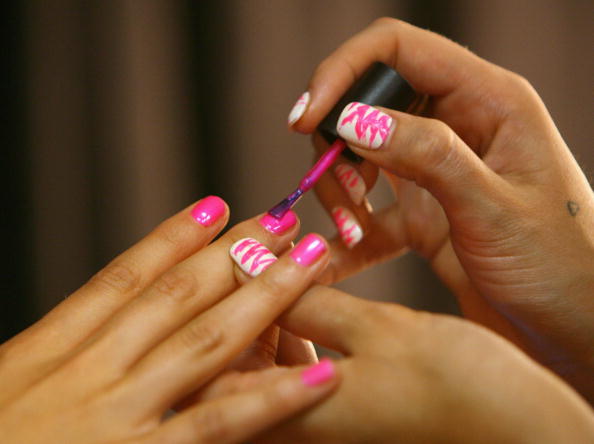 Spring is upon us (this Friday!) and that means it's time to trade in our tired old winter nails for fun, fashionable and definitely floral new nails. It's time to welcome spring with the flourish of a hand, and it's time to look as good and happy on the outside as we feel on the inside. I don't know about you, but it's been spring for about a month here in Florida; and I'm talking 85-90 degrees every single day with cool nights and mornings in the 60s and 70s with a light breeze. It's about to get even hotter, and we've been rocking our spring wear for a month now. So it's time for everyone to catch up to us. And since we have been in full on spring mode for a month now, we already know which nail polish colors are perfect for spring, and which ones you need to have in your collection ASAP.
CoverGirl Outlast Stay Brilliant Nail Gloss in Mint Mojito
It's the perfect shade of minty green and we just love it so much. It's gorgeous and it's amazing, and it's going to carry you through spring with a pep in your step and a smile on your face.
Butter London in Molly Coddled
This soft lavender is the perfect shade for spring. It makes you think of Easter and the beautiful colors that come about this time of year, and that means it's time to get this shade in your collection.
Tom Ford Nail Lacquer in Indian Pink
This is a gorgeous shade that is going to make your nails pop. We love this one so much we recommend that you also put it on your toes and you pair it with your favorite Lilly Pulitzer pieces to ensure that you are as fabulous as humanly possible.
Essie Mesmerized
The most beautiful shade of royal blue imaginable has finally arrived, and we are in love. You need to pick this up ASAP so that you can get your nails looking as royal and bold and beautiful as possible for this spring weather.
Sally Hansen Mermaid Tale
Everyone needs a little sparkle in their lives, and this is the perfect shade of sparkle. A gorgeous blue green that makes you think of nothing but the ocean, this is filled with glitter so that it's sparkly and fun.
Photo by Kristian Dowling/Getty Images