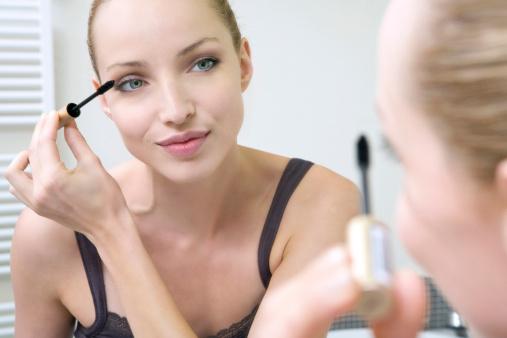 It's not always as simple as sitting down at your vanity or standing in front of the mirror and doing your eye makeup just as you envision. Women everywhere have moments where they don't know how to produce the makeup look they are striving for. Sometimes, a girl needs a little assistance.
Doing eye makeup can be tricky, in both senses of the word – it can be difficult AND there are tricks to help us. Luckily for us, beauty tutorials run rampant on the internet. Skilled beauty professionals and regular gals with talents for makeup can help show us the way. Here are a few of the best eye makeup tutorials around.
1) Michelle Phan is what you would call a Youtube celebrity, especially since starring in a major advertising campaign for the site. She is a complete makeup chameleon and is beyond brilliant, turning herself into everything from a "Spanish Rose," Daenerys Targaryen, Lady Gaga, or even a seductive vampire or "Zombie Barbie." For a particularly stunning eye makeup tutorial, look to Phan's "Gatsby 1920s Flapper Girl" video. The dark shadow is beyond glamorous and perfect for any big night out and pairs perfectly with the subtle pink lip and flawless skin Phan teaches.
2) A good smokey eye is no easy task. But MakeupByTiffanyD is here to help. Her "Eye Brightening Smokey Eye Makeup Tutorial" shows, up close, how to make your own pretty but statement-making smokey eye. She uses beautiful taupes and browns to design this gorgeous eye look. Want a little less dramatic for daytime? Take out some of the eyeliner and you are good to go.
3) Winged eyeliner doesn't come natural to everyone and learning the tricks to this look can help inspire confidence in designing your own take on this dramatic look. For a great tutorial on how to make that perfect cat eye, try LetzMakeup's "Perfect Eyeliner Tutorial," featuring two different ways to master this eyeliner look, as well as ways to ensure your wings are perfectly symmetrical.
4) Stephanie Lee is a gorgeous beauty professional who offers fantastic tutorials on her Youtube page, Beauty by Lee. Her "Summer Date Night Makeup Look" provides watchers with an easy step-by-step to creating a stunning, summery, night time look. The shimmery eyeshadow is just divine.
5) Meet Ingrid Nilson, otherwise known as Miss Glamorazzi. She is adorable and perky and has Youtube videos featuring makeup lessons in addition to food, fashion, and "fun." Miss G. provides a great everyday makeup tutorial that can become your day-to-day, go-to routine. Her "Fresh and Simple Everyday Makeup" can show you easy steps to a pretty and natural look that highlights the real you.
(Lead Photo by Getty Images)