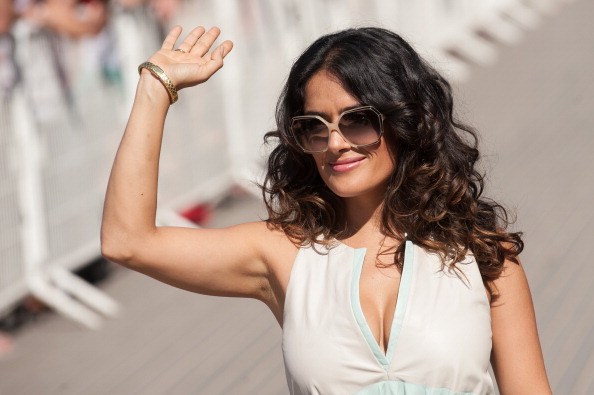 No matter how many times you may have woken up with a big head of frizzy, crazy curls, you need to know that having curly hair is a blessing. Curls are so gorgeous and people with pin straight hair wish they could have pretty natural waves. Having naturally curly hair gives you the option to do so many things with your locks – enhance the curl with product, curl with a curling iron, or try a straight look with a straightener, to name a few. The options truly are endless.
Let's check out five easy-to-do hairstyles for you lovely ladies with beautiful, luscious curls.
The Scrunch
After getting out of the shower, towel dry your hair. Then scrunch your curls while flipping your hair upside down with product. There are tons and tons of curling products out there – gels, creams, foams… My tip is to buy one of each and pick two to use together. Put a bunch of each of the chosen two into the palm of your hands and press your hands together, creating a coating of the products on both hands. Then scrunch away. I always go back and do the same thing about five minutes later, just to really lock the product into your hair. This is the best way I've found in my 30 years of experience to work with my natural curls.
Long, Looser Waves
A gorgeous and more dressy look is to use a curling iron, which your naturally curly hair will take to easily. Blow out your hair using a flat paddle brush. This is a more relaxed blow dry because you are not focused on getting your hair totally straight. You don't have to pull the hair down with the brush as much as when trying to straighten. Then use a curling iron to create the waves or curls – Using a big clip, clip the top half of your hair up and then grab a section of your hair. The bigger the section you grab, the bigger the curl. The tighter you curl each section (the more times you move the hair around the iron's barrel), the tighter the curls. If you only want to curl the ends, just curl halfway up the pieces. If you really want the curls to stay, spray with hairspray, once all over at the end. This look can become a go-to for formal events. For a looser look, forget the final step of hairspray-ing your head.
Low Side Ponytail
Having curls is a gift when it comes to low ponytails. Without even needing any product, you can take wet or air-dried hair and put it in a ponytail off the center and on the bottom of your neck. You are good to go. The pony gets wave and has pretty texture. Just use your natural part and put the pony on the side that has the majority of hair. Or if you part your hair in the center, choose which side. And i looks nice if you pull out a few pieces in the front to hang down wild.
As Straight as Possible
For a sleek style that totally changes up your look, make your hair as straight as you can. Blowdry straight and then use a straightening iron. Put protective product in your hair either before, after the ironing, both. Finish with product or spray down your cowlick if you have one, like I do.
Braided Updo
It's harder for women with a natural curl or wave to do a sleeked back top knot or high bun, at least in my experience. But braids are pretty and work very well. You can braid the front of your hair back in numerous braids and then tie together in a pretty loose bun, chignon, or ponytail. You can have your hair straightened or naturally wavy. Youthful, stylish, and summery.
Photo by Francois Durand/Getty Images