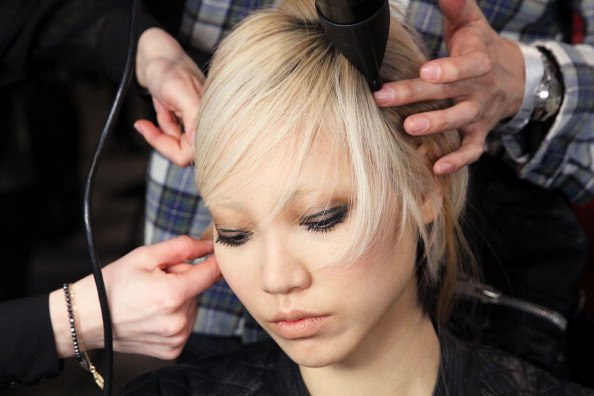 Women everywhere have a love affair with the flat iron. It's the single most important piece of hair care we own, and it's more than just an accessory. In fact, since buying my new car which has an actual outlet in it, I carry mine around with me far more than I should just because I can fix my hair in the car if I really want to (that's so vain, right?). The flat iron is more than just something that makes your hair look straight. It's a way of life, and it can do just about anything. It might be called flat, but it can do anything to your hair that you want if you simply know how to do it. We have here five very simple tricks that you should know how to do with your flat iron aside from using it to make your hair flat and pin straight. Sit back, relax and be ready to have your life transformed.
Curl Your Hair
Did you know you can curl your hair with your flat iron? You can. Just put it around your hair in the middle and then curl the rest of your hair around the iron and leave it there for a few minutes. The heat extends outside the iron and allows your hair to curl.
Beachy Waves
Now that summer is here we all want that supermodel beachy wave look, and now we can have it. All you have to do with the flat iron is twirl one-inch sections of your hair very tight. Then run the flat iron over the entire length of that twirl. Voila; beachy waves.
The Victoria's Secret Bounce
If you love the way models have the front their hair curled slightly back around their faces for a big sort of model curl, you will love your flat iron. Instead of pulling it straight down over your front hair (or long bangs if you will) put the hair in the flat iron as if that's what you plan on doing and then pull the flat iron back and around with just the flick of a wrist; bam, you've done it.
Soft Curls
If you want soft curls but nothing too heavy or fancy, braid your hair. Then take the flat iron and run it over your braids a few times. The result will be curled hair that's soft, loose and very feminine.
Curled Under
If you have a long bob and you love the look of curled under hair just below your chin, don't rely on that big round brush. Just pull your hair under as you straighten it and it will provide your locks with a slight curl so that it's everything you ever hoped it would be.
Photo by Mireya Acierto/Getty Images