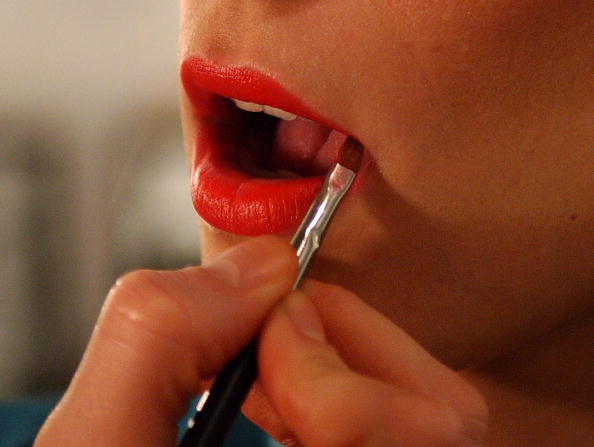 Even Heidi Klum has rough mornings. At least that's what we tell ourselves when we feel anything but gorgeous after a night of all out crying over something awful, binge-watching our favorite new addiction on Netflix or getting out of the house for an evening of fun at your closest friends' wedding and getting approximately 0 hours of sleep. We all have rough mornings. Babies who get sick and spend the night needing to be tended to and cleaned up after, long flight delays and the drive home; there are so many reasons we have rough nights. What's even rougher about those nights is the morning that follows. That morning is so much worse than that evening. And we don't want people to know it's been a rough morning. So whether you were up all night, you overslept and have less than 3 minutes to get ready, or you don't feel well, we have a few beauty hacks that are perfect for rough mornings you can't ignore.
DePuff Red Eyes
An all night crying session over someone so not worth your time is not worth the awful look you're left with in the morning. To get rid of those puffy eyes, start with some eye drops to get rid of the red. Next, de-puff by washing your face in ice cold water. This is going to help get the blood circulating and make the puffiness subside. Add a bright red lip to take the focus off your eyes (and throw on some huge glasses) and call it a day.
Don't Sleep
If you've been up all night or out all night and you find yourself eyeing your bed with less than two hours before you have to wake up, just stay up. Take a shower, wash your hair. Blow dry it. Do your makeup, work out. Do anything but sleep. When you have less than two hours to work with, you're just going to make yourself feel and look worse, so try to forgo a rough morning with this routine.
Drink Water
Why? Because it's good for you, it's necessary for your health and it hides a multitude of sins. It's going to hydrate your body and make your skin look even fresher, it's going to add a little color to your skin and it's going to make you feel better. Drink water in the morning like it's going out of style and you'll look better in a number of ways.
Make Dry Shampoo Your Friend
When you have about three seconds to get ready in the morning, let us recommend that you invest in some good dry shampoo. This is what's going to help you improve your overall look without wasting time. You don't want to look like a train wreck just because you didn't have time to wash your hair, so don't. Dry shampoo is going to cut out the grease and make your hair look manageable and impressive.
Skip the Face Full of Makeup
Whether you had a rough night that lasted until morning or you are just having a rough morning, skip the full face of makeup and go for the basics instead. This is going to save time and energy, which always makes you feel better. The best bet is to conceal problem areas, add a bit of color to your cheeks and lips and add mascara to your eyes.
Photo by Bryan Bedder/Getty Images