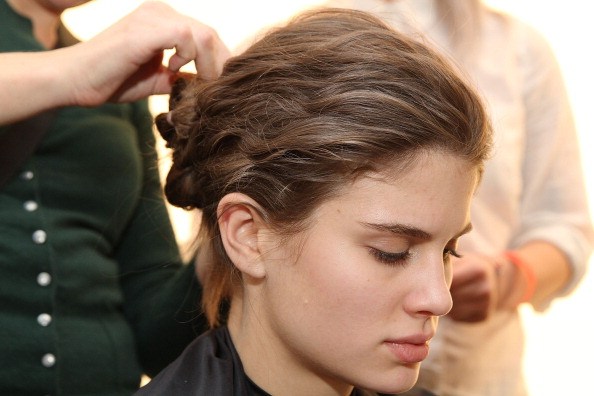 Sometimes you have no time to do your hair. The alarm didn't sound. You hit snooze too many times. You overslept because you were up too late the night before and in desperate need of more sleep. Sometimes you're just too lazy to do your hair. You hit snooze too many times. You overslept because you were up late the night before; you get my drift. Sometimes a quick and flirty ponytail is the only option if you want to have a semi-good hair day that doesn't require too much effort. Before you get out your brush and your hair tie, however, remember that there is a difference between a cute messy pony and a flirty pony and a, "I did not give more than two seconds to my hair this morning and I look like a trainwreck," pony. Learn the difference, know the difference and then start working on your casual, chic and flirty ponytail.
Start with Leave in Conditioner
If you're doing a ponytail and skipping the wash, you will want some leave in conditioner to soften your hair and make it a bit more manageable. Spray this in and get started with a quick brush.
Separate Your Hair
A flirty pony looks much better with a bit of a pouf in the front. Not a Snooki circa Jersey Shore days kind of pouf, just a bit of body in the front. So you're going to want to separate your hair so that you can tease the front just a bit so that it's just a little higher than the rest of your hair. Then add a few bobby pins to that to keep it in place. Add hairspray.
Put it Up
Grab the rest of your hair in the back and put it up about halfway between a 'cheerleader' ponytail height and as low as possible. Tie your hair up with an elastic band and then loosen it just a bit around the sides. This is going to give you the look you want.
Here's a video with a few more quick flirty ponytail ideas:
Photo by Mireya Acierto/Getty Images