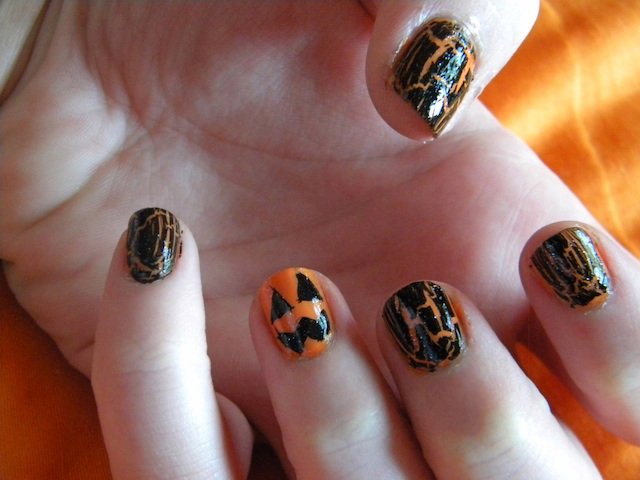 The holidays are everyone's favorite time of year, but they don't start with Thanksgiving. They start with Halloween. It's the first holiday of the holiday season and the decorations, excitement and activities that go along with Halloween is what kicks off the holiday season. Some of us decorate our homes, go all out on our costumes and celebrate all month. Some of us even go so far as to include the holiday in our manicures, which is a lot of fun. If you're into designing Halloween nails, you don't want to miss these 20 freaky nail designs perfect for this holiday.
Photo by nailart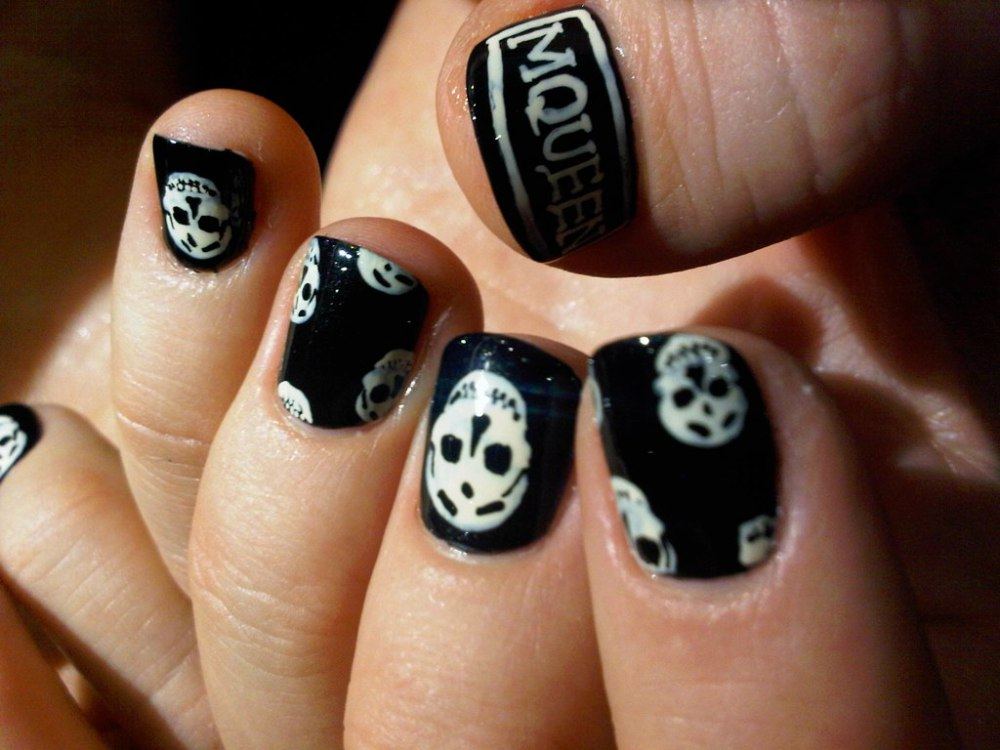 Skulls
These are fun and great Halloween nails. They're fun because they're easy to do. And they're great because people are going to think you spent hours at the manicurist having these professionally done. They're in the spirit of Halloween without being too over-the-top. They're not going to scare any kids, but they are going to have people falling in love with the design and wanting them done to their own nails for the spooky holiday.
Photo by Getty Images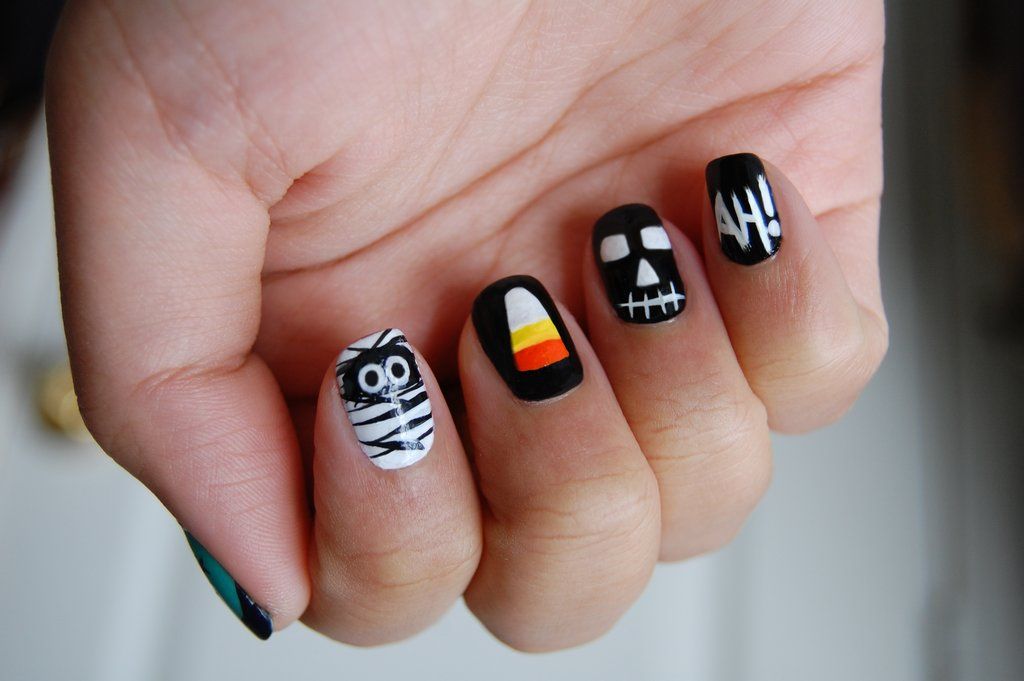 Halloween Favorites
What makes these nails Halloween favorites? Only the fact that they have all the favorites from the season incorporated into one great nail design. You can have a different nail design on each finger, so you can customize the look so that it works for you, and what you love the most. This is a great concept because it allows you to get creative, go a bit demure or go a bit over-the-top – whatever you want. You can choose from ghosts, goblins, pumpkins, spiders, cats, or any other scary items you want.
Photo by nailart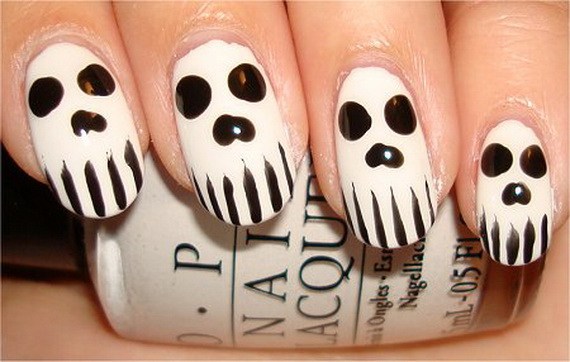 Scary Faces
What says Halloween more than a bunch of scary faces on your fingernails? Nothing. Scary faces are the epitome of this particular season, and with good reason. They're scary, fun and frightening. You're going to become the hit of the Halloween party with nails like this, and it's not difficult to see why when you consider how great these nails are. They're scary, spooky and fun, and they are something you can't help but fall in love with. They're also simple, which makes them even more amazing this time of year.
Photo by OPI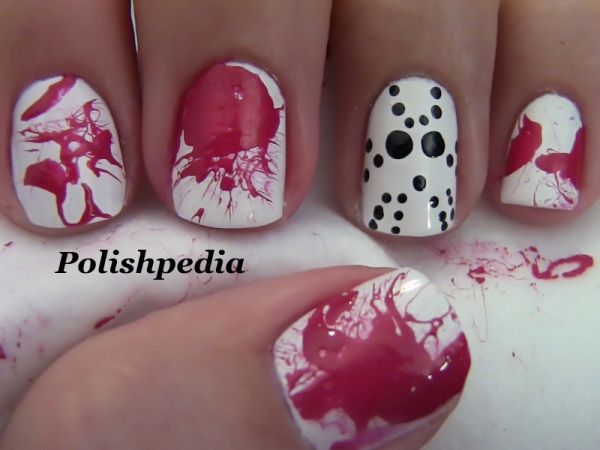 Bloody Nails
Splattered blood down clear nails is awesome when it comes to look spooky for Halloween. If you plan on dressing up as a zombie or going to a 'killer' Halloween party (get it?), these nails are a great option. They're super simple to create, and you don't need professional help to make these nails a reality in your life. All you need is a little bit of red polish, some clear polish and a few minutes time to create this look using the messy method of application. It's a great way to scare your friends.
Photo by Polishpedia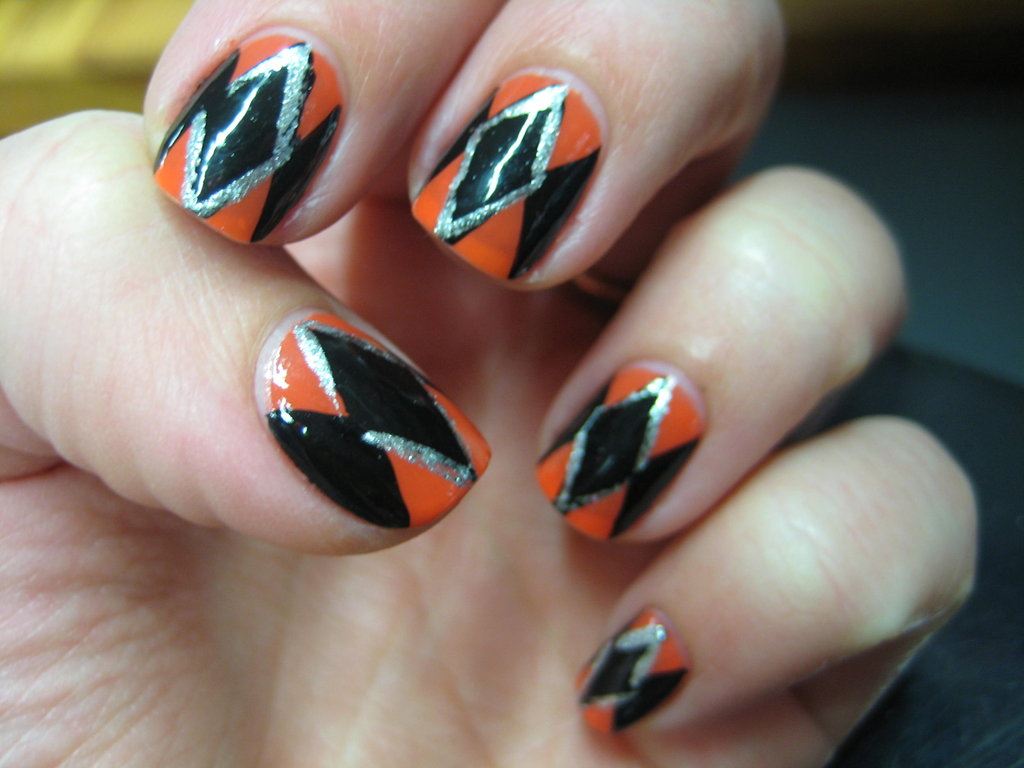 Orange and Black Design
These nails are more abstract than anything else. What makes them fun and simple is the fact that you can do whatever you want to make these nails fun and fall-like. As long as you use the orange and black them, maybe with a little bit of silver glitter, you can create nails that look like they belong to the month of October. You can do dots, stripes or other designs. You can paint one nail black and the other orange; you can do whatever you want as long as you stick with this particular color scheme.
Photo by ilovenails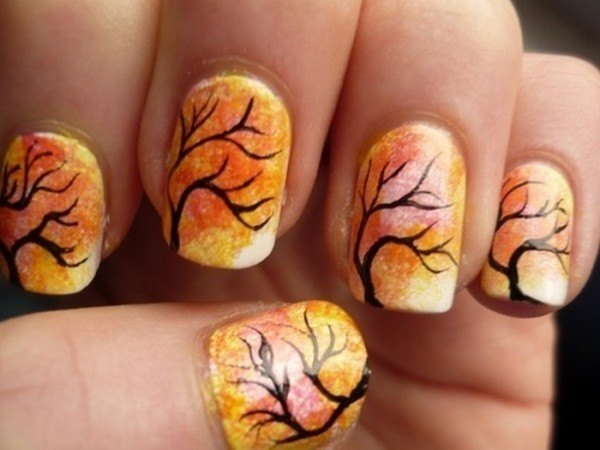 Spooky Branches
What we love about this nail design is everything. It's spooky and a bit lovely. It has a bit of white, some color sprinkled throughout to give them a very fall-like appearance, and the simplicity of the empty tree branches makes the nail look absolutely spooky. It's a very simple, elegant nail that will take you through to Halloween without being to bold or busy. They're good for the office, for more elegant events and for fun. And you won't believe how many compliments you receive when people notice these nails.
Photo by glamour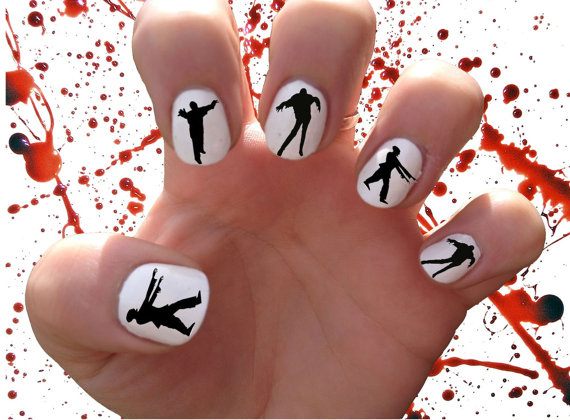 Zombie Nails
They're scary, and spooky and they're perfect for Halloween. Zombies are the quintessential Halloween staple, and putting them on your nails is the perfect way to celebrate the season. If you want to do it yourself, you can. It's not a difficult thing to do, but it is a scary one. The best part about these nails is that you can do them so that they are scary without being horrifying. That makes them a little more appropriate for the office or for hanging out with the kids without giving them nightmares.
Photo by nailart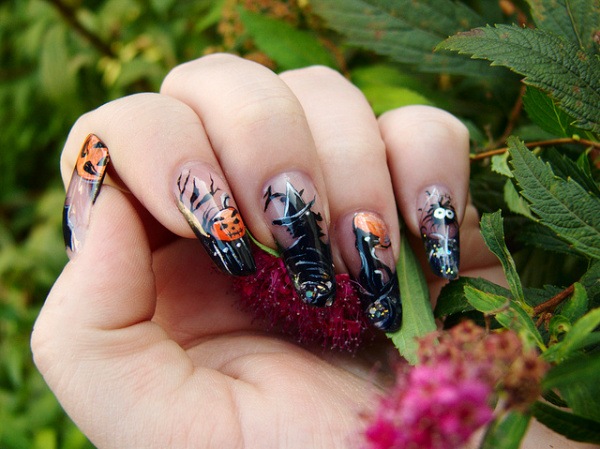 Witches and Pumpkins
Witches and pumpkins are two of the most noticeable and most Halloween-like things of the season. You see a witch and you immediately think of Halloween. You see a pumpkin and you immediately think of Halloween (and fall) and that's just the way it is. These nails are fun and fabulous, but they don't have to be this long. If you like them long, then go for it. However, if you prefer shorter nails that are a bit simpler to deal with, these are going to work just as well on those shorter nails as well.
Photo by Getty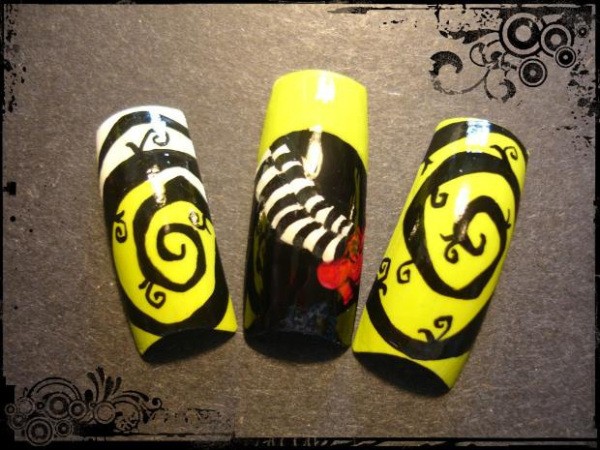 Wicked Witch Nails
The Wizard of Oz is one of the most famous, most exciting movies of all time, and it only makes sense that people would fall madly in love with the movie time and time again. That's why we love these nails. They're fun and festive, and they celebrate the worst and best part of the movie that everyone remembers from childhood. They're bold and fun, but they're not too difficult to do, and getting to paint those red shoes on your nails is a great way to have a little fun this Halloween.
Photo by buzzfeed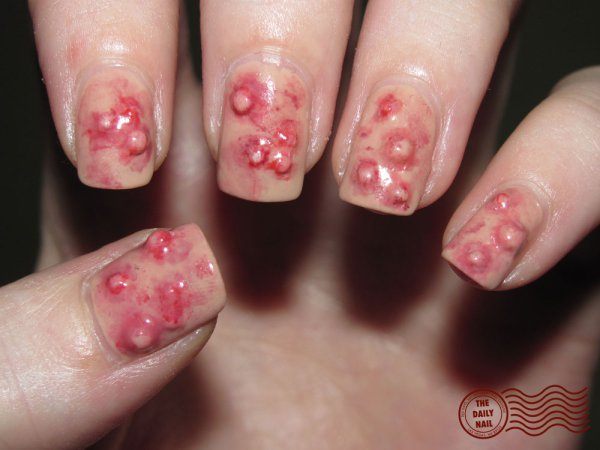 Disease Nails
If you really want to scare people and make sure no one gets to close in public, you will want to create these nails. They look as if they have some of the worst diseases imaginable growing on your nails. It's gross, disgusting and you're not even going to want to touch yourself. They're not difficult to do if you have a little bit of a creative gene, and you're going to love the outcome of these nails when you get dressed up for the holidays.
Photo by dailymail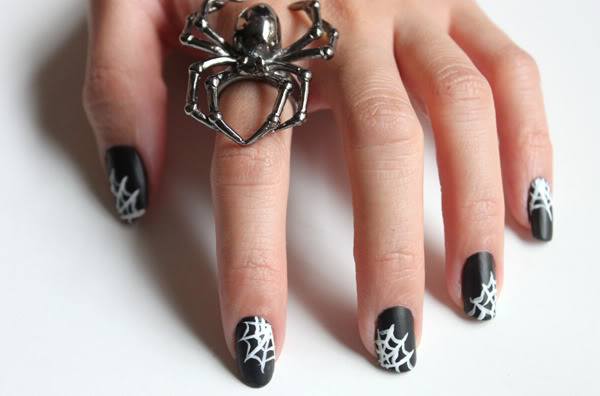 Spiderwebs
Some black polish, some white polish and you have some super spiderwebs. These are great nails to wear all month long since they're not scary, bold or inappropriate. They can be worn on children, to work, to school and around the weekends for some fall fun. You're going to love these nails because they make a great addition to any Halloween costume or just to add a bit of interest to anything you want to wear during the month of October.
Photo by creativedesign
Skeleton Nails
Skeletons are fun and totally in tune with Halloween. They look creepy, but not too scary. You can wear them with a costume or with your regular clothes, you can wear them with anything. They're fun and festive, but not too scary or bold that you can't wear them on casual Friday or out with the kids to trick or treat. It's a fun way for you to dress up without dressing up, which is the preferred method of Halloween costume for many adults.
Photo by Lulupin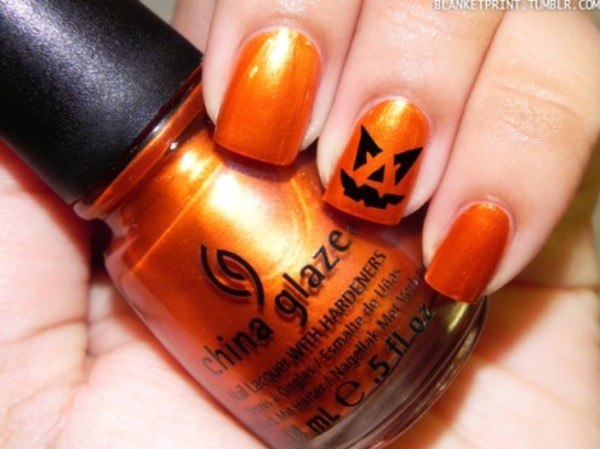 Pumpkin Faces
What's more fun, and more Halloween-like than a pumpkin on Halloween? All you need for these nails is a bit of orange nail polish and some black nail polish. Might we suggest that you use a bold, bright and sparkly orange for a bit more fun? This is a great way to add some interest to your nails so that you can get a little more attention in a positive manner. Just paint your nails orange and add some scary black faces to them for a load of fun, and a lot of great compliments. They're great for the office or a classroom, so you don't have to worry about offending anyone or scaring anyone's children.
Photo by nailpolishdesign
Horror Movie Nails
What's more fun that designing nails that include the faces of your favorite Halloween movie characters? There's something to be said about having Freddy and Jason on the nails you wear on a daily basis. The only issue with this particular type of nail is that you will probably not be able to do this on your own. You're going to need to find actor decals online or you're going to need a professional artist to help you design these nails. It's time consuming, but the outcome is worth it in the end.
Photo by Getty Images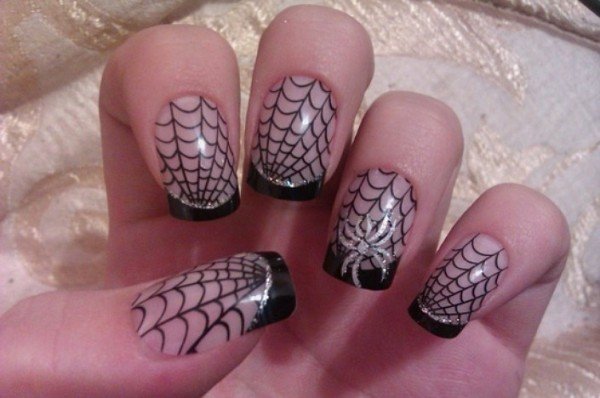 Haunted Webs
You have spiderwebs like we talked about earlier, and you have haunted spiderwebs. These are the best ones. They're the best because adding ghosts and goblins and giant spiders to any web makes it automatically more terrifying. You can rock these nails just about anywhere that doesn't have a strict dress code or requirement, and you're going to appreciate the compliments you get when people see these nails this month.
Photo by nailart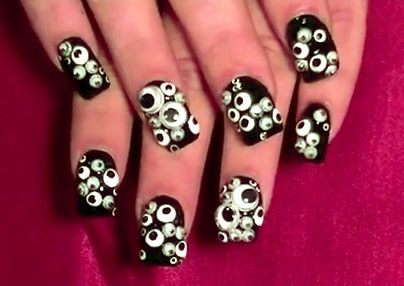 Googly Eyes
This is a super simple design that someone can do without any help. All you need is a few googly eyes from the local craft store, and a few drops of nail polish. By putting the eyes over black polish, you make them appear just a bit scarier than they actually are, which is all it takes to make them a bit more Halloween like. These are a great choice for those who have kids that also want scary nails that aren't considered too scary for school.
Photo by creativenails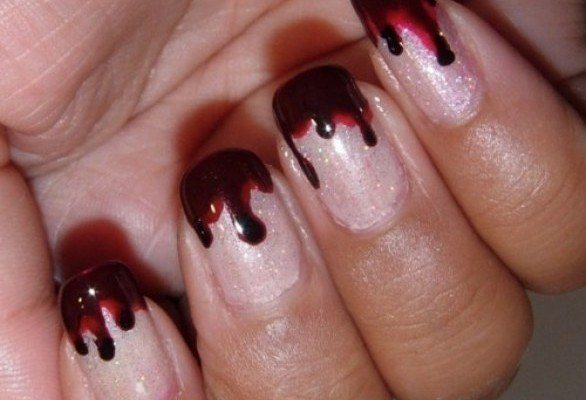 Dripping Blood Nails
These are fun and scary, and definitely one of the freakiest designs we've seen all season. These nails look like they belong on a dead body, and they probably do. With a little bit of creativity, however, you can create these nails for yourself so that you can rock this look all season long. It's dark and scary, so it's not something you can wear to work or to your kids' Halloween party at school, but it is definitely a fun way for you to show off your creative talents and your love of Halloween.
Photo by Getty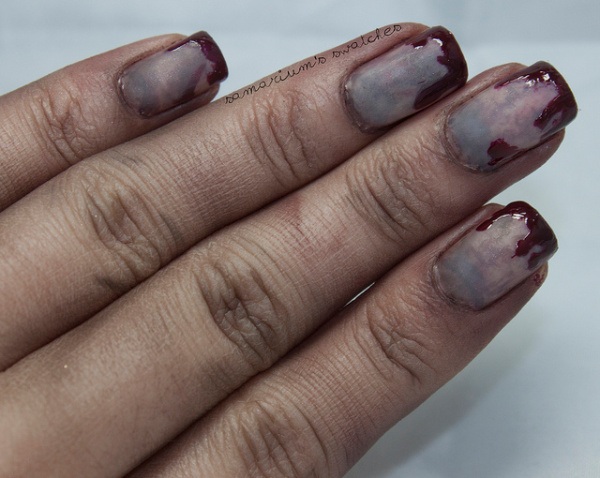 Dead Body Nails
This is something that might take a little bit of professional help, but if you really want to look like a zombie, it's a great option. These nails are freaky. They're so scary, in fact, that they won't work in the office or a classroom, whether you're the student or the teacher. They're a bit too scary for children, so you might not want to wear these if you plan on seeing your own kids any time soon, but they're awesome.
Photo by Getty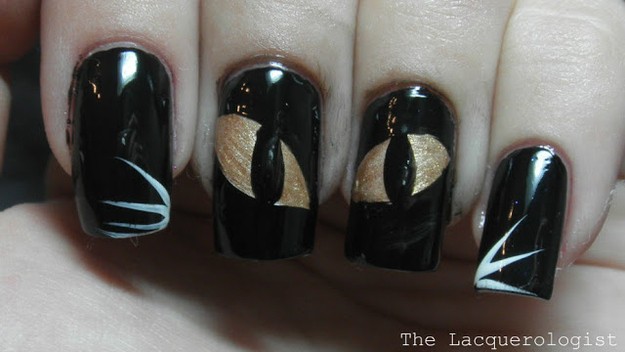 Cat Eyes
Cat eyes are notoriously scary, if you've had the displeasure of running into a pair in the dark. They're always green and they seem to glow in a dark room, which is enough to freak you out without much effort. These nails have the same effect, and they can be easily done. You can find glowing nail polish at any Halloween store, which is something that makes it even more fun to do. This polish doesn't look like anything special during the day, but at night it takes on a whole new level of scary.
Photo by thelacquerologist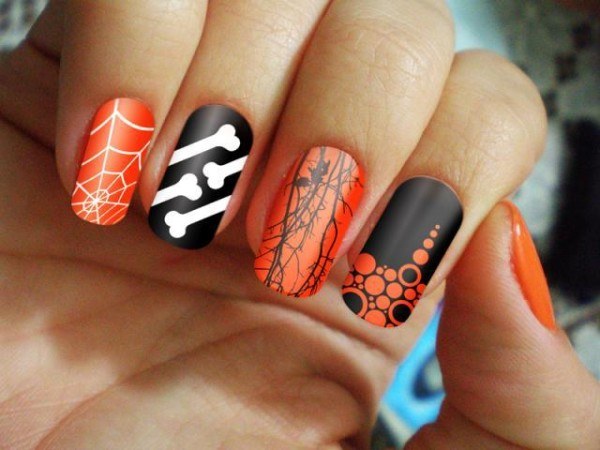 Bones
Bones are perfect for Halloween, not just your dog. These fun and creative nails will make a statement without being too horrific for your friends or kids to check out during the holiday season. All you need to do is get a little creative and you can make it work. These nails can be colorful or they can be a bit more demure. They don't have to be bold. Orange and black are great, but black and white or even silver work just as well to create nails that are fun, fabulous and completely amazing when it comes to creating Halloween bones on your nails. And the best part; you can do this one yourself.
Photo by Getty