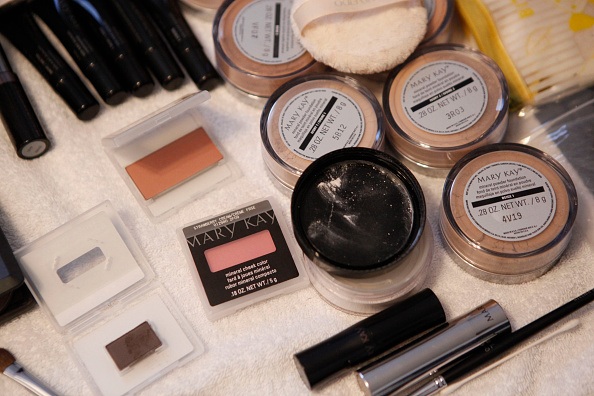 Skin cancer, age spots or a heavy breakout? No thanks; I'll pass on all of the above. So how am I supposed to keep my skin looking radiant and gorgeous in the summer sun? I'll tell you a little secret that really shouldn't be a secret. We should be wearing sunscreen every single day of our lives on our faces, regardless whether it's summer or winter or we're not outside all that often. Our skin requires protection from the sun, but that doesn't mean we have to sacrifice our complexion or beauty for healthy skin. For someone like me, with borderline oily skin, wearing sunscreen on my face every day was a nuisance. It causes me to break out and to look oilier than ever, and there is a small part of me that would rather risk skin damage than breakouts and oil.
Fortunately, I was turned onto a mineral powder about 9 years ago that literally changed my life. With sunscreen already in it, I was able to put on my makeup in the morning knowing that my skin was protected and my face was matte and clear at all times. It's been the best thing that's ever happened to my vanity, and it's made me an advocate for SPF-containing makeup. And since we are in the midst of a hot and sultry summer, I thought it might be a good idea to see if I can help other women make a healthy decision to have better, safer, more protected skin without resorting to gunky creams or the feeling that you smell like you should be on the middle of a boat in the Caribbean when you're sitting in your office.
Each of these foundations and lipsticks are designed to make you look like the most gorgeous version of you, all while protecting your skin and face with the lightest ingredients, the most protective ingredients and the least amount of work for you. Lovely and light, these are each designed to last all day, even in the harshest sun and summer conditions – including the pool, a day on the boat or a day on the beach.
Bare Minerals Original Foundation Broad Spectrum SPF 15
This is the makeup that changed my life. It's made my skin more radiant than ever, and I can assure you that I look years younger than I actually am. I'll be 32 in less than 3 months and I'm frequently misjudged as someone who isn't even old enough to drink legally (don't hate it…especially after four kids!). I swear it has everything to do with my makeup. With sunscreen in it, I never burn. Additionally, this does not wash off or sweat off when I'm in the pool or on the boat all day long. That's what makes it so amazing.
Giorgio Armani Maestro Cream Compact SPF 25
It's designed so that it matches your complexion and makes your face look natural and radiant, and it protects it from the damaging rays of the sun. This amazing makeup is designed to make you look young and beautiful, as well as protect you at the same time.
Dr. Jart+ Premium Beauty Balm SPF 45
This is a great product because it's sort of an all-in-one product. It's designed to work as a moisturizer, sunscreen and serum to treat skin in need. It's slightly tinted so that it helps to make your skin look clean and healthy, as well.
Philosophy Hope in a Jar Foundation SPF 20
This is something that you are going to fall for in a second. Philosophy is known for making their amazing moisturizer, but now it's also a foundation and a sunscreen. It's not only making your face appear younger and healthier, it's also helping it to stay protected when out in the sun. Your skin is so important, and that's why it's always a good idea to take care of it.
Laura Mercier Tinted Moisturizer Broad Spectrum SPF 20
This lovely tinted moisturizer makes your skin tone appear even and it helps you to look as good as possible without making your skin feel inappropriate. It comes in a regular version and an oil-free version, and it's one of my favorites.
Guerlain Terracotta Joli Teint Foundation SPF 20
Designed to make sure that your skin tone looks even and lovely, this is a foundation that works well with  just about any complexion. It also helps to keep your skin looking young and radiant, and it's light enough to wear all day long. It's not the kind of foundation that appears caked on or uncomfortable, and that is precisely what people love most about this one when they are using it on their faces throughout the warmest part of the year.
Smashbox Camera Ready CC Cream Broad Spectrum SPF 30 Dark Spot Correcting
For those with uneven skin tones and some dark spots that require more effort to hide, this is the perfect solution. Complete with sunscreen already inside and a great formula that does not leave you feeling greasy or gross, it's going to change your life.
Dior Addict Lip Glow
With its own built in SPF, this is the perfect summer lip color for anyone looking to keep their lips healthy and free of sun damage. It's light and lovely, and it's going to protect your skin while lasting through drinks and meals.
Yves Saint Laurent Rouge Pur Couture SPF 15
With several different shades to choose from, you're going to love the way your lips feel when you are wearing this lip color. It's gorgeous and delicious, and it's going to ensure that you feel good about your lips while protecting them at the same time.
Bobbi Brown Rich Lip Color
Another smooth and delicious lip color that comes in numerous shades, this one also protects your skin and makes you appear radiant. It's a gorgeous and glowing color that will certainly make you look and feel as if you are at the height of fashion.
Photo by Getty Images