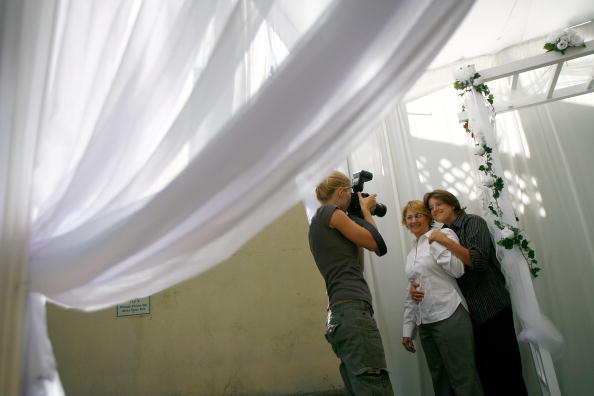 Weddings are a big deal, and they are also a very big expense. From the wedding venue to the dresses to the food to the officiant, there are so many fees to take into accord. Most weddings cost over tens of thousands of dollars to put on – and that's on the cheap side! There are a number of ways to cut costs on certain aspects of it, one being the professional photographer. Don't get me wrong, a good photographer is great, but spending thousands on a professional when that money can go towards something else is unnecessary…..actually it's totally necessary!  Weddings last a lifetime and you should make sure you get the best quality, period.
However, if you decided to go on your own, here are the ways to "save money" and make a huge mistake by ditching a professional from Petapixel and Frank McKenna's hilarious take on the subject:
– Rent the same cameras and lenses that the professionals use. Just because you aren't going with a professional doesn't mean that all you will use for photos are other peoples' iPhones! While you do need to rent the same exact equipment, you'll spend less money by going the DIY route.
– Rent the equipment needed: tripods, soft boxes and memory cards. You can't rent the cameras and lenses the pros use without also renting the major equipment used to make this happen.
– Recruit two camera-proficient friends to take the photos. If you're lucky and blessed to know people who actually know their way with a camera, they are the ones for the job!
– Check out a few books and video tutorials. Books and video tutorials will set you back, but it's a great investment. If all else fails, there's always the go-to YouTube tutorial that will most likely tell you all you need to know.
– Go for it and have them shoot away! Once you place your trust in your camera-wielding pals, have them run around and take as many photos as possible of the big day.
– Have the photos Photoshopped. At least someone that you know – if not you – knows how to use Photoshop to enhance your photos. It's likely that the photographer friends you've recruited will know and will generously do it as well.
– Store and share the photos. There are a bunch of online store and share places that will treat your wedding photos like gold. Check out sites like SmugMug to do the trick.
– Get prints made. Go to a place like Wal-Mart or Costco to print out your wedding day photos for pennies – at least considering how much you avoiding paying.
P.S. I am Patty, the original writer of this article and I want to own up that it had originally been a complete mistake.  The article has since been changed to focus on satire, the way it was supposed to be originally intended.  I take full responsibility and at least can laugh (and cry) about it now.  At least we can make fun of me and the article in the comments section!
Hopefully some of these points will make all of you realize that this stuff is just not a good idea.  At least not if you want to have a quality wedding album.  And seriously, good luck getting all of this done!  Just hire a professional and save yourself the grief.  Look for our follow up article on how to do this the right way.  You may spend a few more bucks but those memories will last forever.
*Update:  Here's one from our readers!
Lets take it a step further and let your little 12 year old brother be the DJ, there is a good $1500 you can save right there. Maybe get your friend to go buy decorations from The party store and decorate your reception hall. There is another $2000 you just saved and then go buy a cake from Walmart, thats another $200 saved. Then go to MacDonald's and buy 200 Big macs for your guest to eat, you will save at least $3000 right there.
(Photo by David McNew/Getty Images)