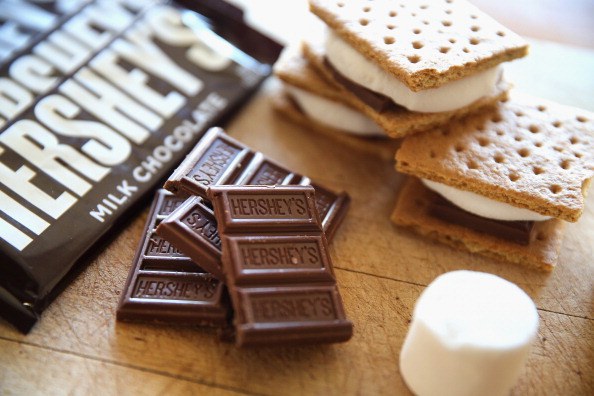 There's nothing more indulgently satisfying than the chocolatey and toasted marshmallow-filled graham cracker sandwich treat, S'mores. Best known for being made and eaten around a cozy campfire, S'mores has since become a staple flavor for many things, like ice cream, cookies and more. But, no matter what kind of flavor concoction they come up with, you can't help but enjoy the original best. Of course, there are a variety of ways you can eat a S'more, which we are not opposed to; in fact, we very much encourage it!
Here are five S'mores life hacks that will change your eating forever:
1. Use Nutella instead of chocolate. Chocolate is great by itself, but Nutella is definitely an upgrade from just plain chocolate. A wonderful marriage of chocolate and hazelnut, Nutella is a chocoholic's dream. Paired inside of a S'mores, it sounds like heaven made its way into a chocolate-marshmallow-graham cracker sandwich!
2. For an adult version of S'mores, dump the marshmallows in Bailey's after toasting, before placing it in the sandwich. Mind blown!
3. Use Reese's Peanut Butter Cups instead of plain chocolate. To give it an extra kick and instead of having to add both chocolate and peanut butter to the mix, do the ultimate 2-in-1 and just get Reese's to use in place of the chocolate. This is something I've tried before with friends and now it's my go-to S'mores way!
4. Build S'mores inside of a banana. For extra flavor and texture, not to mention a tad bit of healthy into an otherwise indulgent treat, S'mores inside a banana (especially in the peel) makes it look even more alluring. After all, many people enjoy chocolate covered bananas, so this is also that thing too.
5. Make S'mores hot chocolate in a mug! While it's still a little more than a couple of months away from nearing the holidays, it's never too early to "test" this out. With the chocolate and marshmallow factors, it's only natural that it can be made into a form of hot chocolate – yum!
(Photo Illustration by Scott Olson/Getty Images)