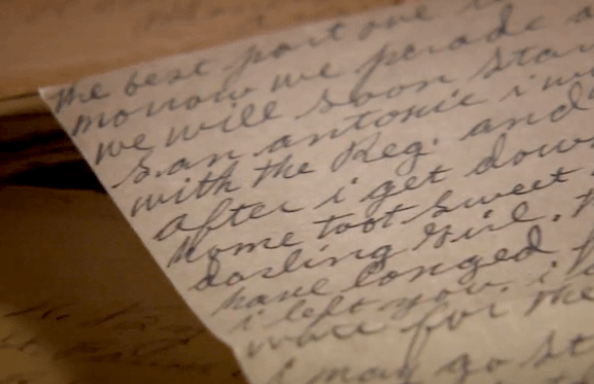 Imagine randomly receiving a stack of lost love letters from over 90 years ago.  Love letters from your grandfather to your grandmother from World War I. It's a story you hear only in history books, but this one is a love story come to life – just ask Lisa Byrd Adajian! Byrd Adajian is the granddaughter of Nathan Byrd, who penned WWI love letters to his first love Lota while he was a soldier. While "somewhere in France," Byrd wrote letters to his wife in Phoenix, Arizona, beginning in 1918.
"I will be thinking of you while I am marching … I will go with the regiment and be discharged. Then home tout de suite to my own darling girl … Will close with all my love to you and baby … Best wishes to all. I am, as ever, your loving Nathan," Byrd wrote in 1919.
The letters came a long way – both figuratively and literally – and Byrd Adajian would never have the letters in her possession if not for a random stranger named Sheryl Caliguire. Caliguire, who is not related to the Byrd family, found the letters from Nathan to Lota while living in Highland, California over 30 years ago.
"It was an open shoe box sort of just left there. And I have to believe that it fell into the wrong hands. It didn't mean anything to them," Caliguire said.
The kind stranger wanted to return them, but the only address she had was the one on the envelopes, which was a road in Phoenix that she discovered no longer exists. Also from a military family, Caliguire held onto the letters for sentimental reasons. Last year, Caliguire, who now resides in Pennsylvania, decided to give it another chance, turning to the Phoenix ABC TV station for assistance. An assignment editor there happened to find the 1940 census, as well as a property deed, indicating the Byrd family had lived there. The editor then came across a 2005 obituary for Nathan and Lota's son, William, connecting them to Oregon – leading them straight to their granddaughter: Lisa Byrd Adajian.
Caliaguire and Byrd Adajian finally met through Skype and talked in depth about the letters. "I found them a long time ago and I'm so happy you have them," Caliguire told Byrd Adajian.
Byrd Adajian plans to find a way to preserve the letters and find out more about her grandfather. She also plans to share the WWI love letters with the rest of her family members.
Photo Source: KATU.COM