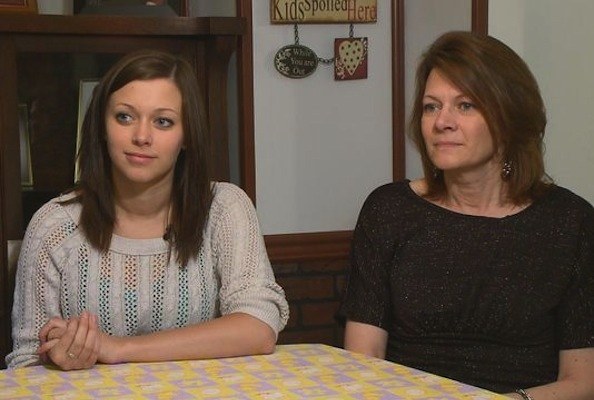 After spending 22 years apart, Carrie Leach and her birth mother Kelly Gallant were recently reunited, thanks to the help of Facebook.  Even through all of the obstacles she faced, a determined Carrie never gave up hope that she would one day meet her birth mother.
"I would say so many times I wanted to give up, but I didn't, and, if it's something that you really want and you really try hard for and you really follow God's path in your life, he's going to reward you with that in the end," Carrie explained. Carrie, who is a new mom and is on the verge of getting married in June, reveals that she realized there was only one thing missing in her life: her mom. She admits, "I wanted her to be there for my wedding day."
Unfortunately, another obstacle would get in her way, as the adoption agency where Carrie's birth records were located in closed down years ago. "I actually ended up calling the hospital that I was born at to see if they could tell me anything. … I called the courthouse to see if they could tell me anything in Lima," Carrie continued.
With one dead end after another, she found herself exhausted from looking every which way and her options seemed like a long-shot – except for social media. Just a few weeks ago,  Carrie posted a picture of herself on Facebook holding a neon sign with a hand written note listing what little information she knew about her birth parents. Less than 24 hours later, she received emails from her sister, asking questions. After exchanging several Facebook messages as well as talking on the phone with one another, Carrie was finally able to stand face-to-face with her birth mother Kelly Gallant last week.
"Twenty-two years ago I would have never imagined that there was an Internet or a Facebook or some type of social media to reconnect us," said Kelly, who admits the adoption has haunted her for years. "It's only by God's grace we're together."
Kelly revealed that she had actually tried to reverse the adoption, barely a week after giving Carrie up, but she was told it was too late. For years the birth mother held out hope Carrie would reach out to her when she got older.
"I sent cards to the adoption agency, and they were going to make a time capsule with all the letters and the cards and gifts that we had sent … and when she was old enough she was going to be able to retrieve those items from us," Kelly explained. "Well then the adoption agency closed and they sent the items back to me."
Neither Carrie nor Kelly knew that they were actively searching for each other until Carrie posted her picture and message on Facebook.
"It's amazing how much social media can affect things but it's amazing how many people actually care," said Carrie. "It's not clicking yet totally that this is actually my mom, and we're actually sitting right beside each other — something we wanted forever."
Image Source: WKYC-TV