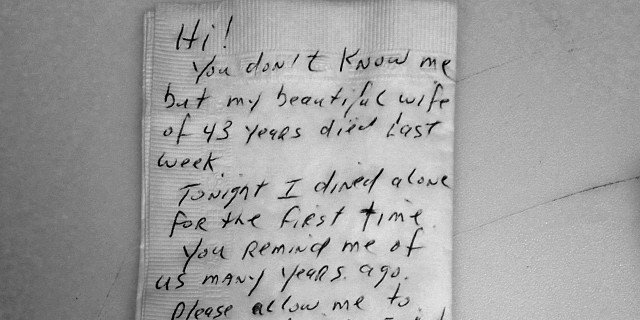 Despite the tragedies that life inevitably hands us, it's how we react to them that makes all the difference. That is the lesson a lucky young couple learned when they unsuspectedly sat next to a widowed man at a restaurant last month.
A week after he had just lost his wife, a man who goes by the name Lee B. went to eat by himself at a restaurant. The grief-stricken man sat solo next to a  young couple that apparently reminded him of him and his late wife. While he could have played the victim and openly acted disgusted, instead the man embraced the happy memories he shared with his love, spreading their happiness with an unknowing couple. A Reddit user by the name of Turboturtle08 posted a photo of the letter written by Lee, which they obtained thanks to Turboturtle08's friend – who just so happens to be the manager of the restaurant!
The caption that went with the picture of the napkin letter read, "A friend had a customer leave this to the couple next to him tonight, and pay for their meal."
"You don't know me, but my beautiful wife of 43 years died last week. Tonight I dined alone for the first time," Lee B. wrote on the napkin to the couple. "You remind me of us many years ago. Please allow me to buy your dinner.. It will put a smile on Carol's face and make me happy… for now."
The selfless act of kindness the man carried out goes to show that even faced with a tragedy, love conquers all. Carol would most definitely be proud of him!
See the full note below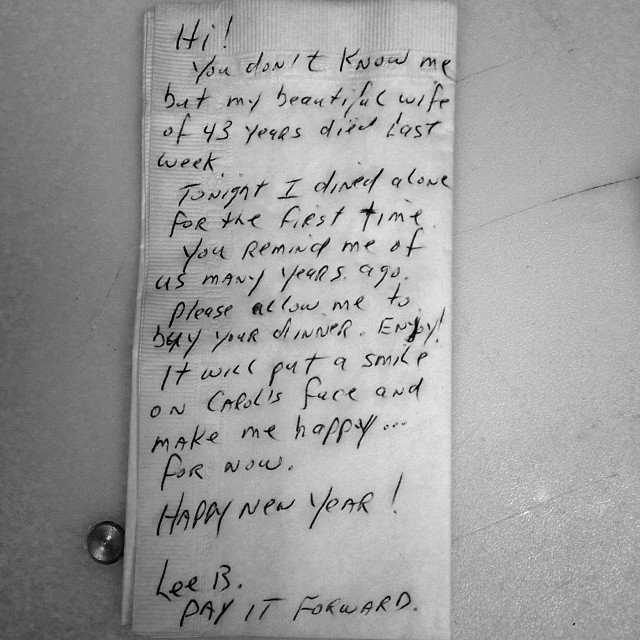 Photo via Reddit